It's no big secret that some of our joints are thought to be haunted. The White Eagle Saloon & Rock 'n' Roll Hotel, for example, has long been included on lists of Portland's most haunted spots, while Edgefield in Troutdale, Ore., even made it onto a national list of "Top Ten Most Haunted Hotels"!
Read More
Any Port In A Storm
A Port-Style Wine Tasting at Edgefield
Thursday, November 11, 2010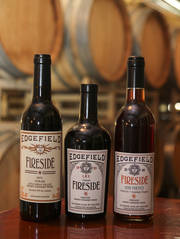 What does "any port in a storm" mean, exactly?
It was a phrase used by the Portuguese men and women who brought us the fortified style of wine called port. Traditionally, the Portuguese made their living from fishing the tumultuous Atlantic seas. When the weather made it difficult to continue, they would search for the nearest port in which to take refuge, where they would be welcomed with a glass of warming port and a hearty bite to eat.
Read More