Archive for February 2011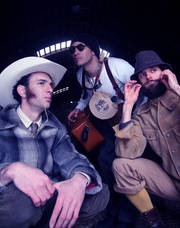 We told you that all our McMenamins Music Tours were about to kick it into high gear, and we weren't kidding. Tonight, the Wiyos kick off their Small Batch Tour (which will hit three properties in two days!) at the Kennedy School.
There's old-school, and there's way old-school, and the Wiyos definitely fit the latter. This crew of modern Tin Pan Alley crooners seems to hail from an era when newsboys crowed from street corners and a fedora topped every head. These anachronists somehow manage to infuse their songbook -clearly taken from the popular music of the 1920s and '30s, with an almost imperceptible modern-ness. The result is both a nostalgic look at the past and an eye on the future.
Read More