2013 Winter Scotch Dinners
Join fellow spirits imbibers at one of our popular Winter Scotch Dinners to hear about, smell, taste and enjoy this selection of scotches, all paired with a menu of courses to complement the flavors. Your host is the charming and edifying Stuart Ramsay.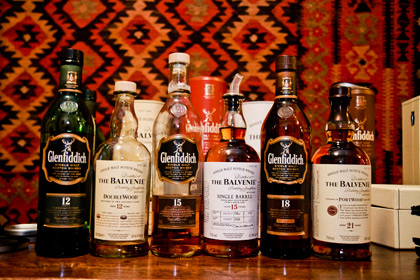 Glenfiddich 12 Year
The Balvenie Doublewood 12 Year
Glenfiddich 15 Year
The Balvenie Single Malt 15 Year
Glenfiddich 18 Year
The Balvenie Portwood 21 Year
Stu­art MacLean Ram­say, born and raised in the High­lands of Scot­land, cur­rently lives in Port­land, Ore. A writer, edi­tor and pub­lic speaker, Ram­say is a lead­ing expert on spir­its and craft beer. He was the Amer­i­can cor­re­spon­dent and con­tribut­ing edi­tor for Britain's Whisky Mag­a­zine and craft beer colum­nist for the Port­land Ore­gon­ian. His arti­cles about spir­its, cock­tails and beer have appeared in The Malt Advo­cate, Santé Mag­a­zine, Cigar Afi­cionado, and the Oregonian's A&E magazine. His most recent book project was as con­tribut­ing edi­tor for The Defin­i­tive World Guide to Whisky, pub­lished by Britain's Dor­ling Kinder­s­ley. Ram­say wrote the Amer­i­can and Cana­dian chap­ters for this award-winning book. The book's awards include a pres­ti­gious James Beard Award for best spir­its & wine pub­li­ca­tion, and "Best Spir­its Book" in the Gour­mand World Cook­book Awards, France.