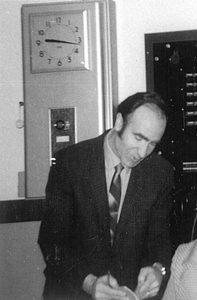 Here is another sample from the collection of Kennedy School biographies we've compiled for the lodging rooms in the original school building. This one's really got some wild and unexpected Mc connections.
Gus Dindia and his family hold a special place in the McMenamins' realm, not only because Gus served well and faithfully as Kennedy School's final principal, but also because of his connections, direct and indirect, to other McMenamins' locations, past and present.
Gus's dad and uncle came to Portland in the late 1890s as young men fresh from their native Italy, starting and soon rising in the local produce industry. Gus's cousin then went on to build the family business into a large distribution company, called Pioneer Fruit, located at Southeast 2nd Avenue & Alder Street, and was instrumental in developing that area into Portland's expansive East Side produce district. Decades later, in 1974, and right in that very spot, Mike McMenamin opened his first pub, which he called Produce Row.
Gus and his wife, Joan, were themselves part of another important McMenamins' "first." In May 1983, Mike and younger brother Brian opened their first pub together, marking the start of McMenamins Pubs. Called the Barley Mill, it's housed in a one-story, concrete commercial building at Southeast 17th Avenue and Hawthorne Boulevard, that Gus' father purchased in the '50s, and which subsequently passed along to Gus and Joan. So when the McMenamin brothers debuted the Barley Mill, their landlords were the Dindias, and still are in 2014!
Read More