Anderson Artwork – James Egawa
As we all know, the Anderson School grand opening is less than two months away. The artists have been working since last fall on new artwork for the property, based on Tim's historical research. Below is one of the new pieces that will hang at Anderson School, by local artist Carol Meckling, along with a short biography of a colorful life.
****
James P. Egawa (1940-2003) was a 1958 graduate of Bothell High School (which used to stand immediately north of the old Anderson Junior High School, where the pool building is now). Born to Japanese father Fred and Lummi Indian mother Grace, Jim experienced both cultural diversity and adversity as a child, and he wove those experiences throughout his life's work.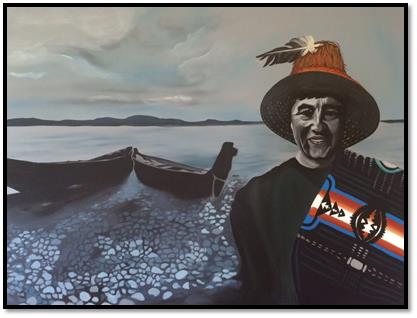 As a young girl on the Lummi Reservation, Egawa's mother had been forcibly removed from her family and grew up in government boarding schools for Native Americans. In a similar government-sponsored and involuntarily evacuation years later during WWII, the small child James joined his father in a Japanese internment camp (despite being enrolled as a Native American) in the early 1940s.
This hardship so early in life based on race and culture most likely influenced his strong drive in adulthood to develop an exceptionally broad career and life. After Bothell High, Egawa graduated from Central Washington University, located two hours away in Ellensburg, with two bachelor's degrees (art in '63 and photography in '64) and a master's degree (education, '68). He had a homecoming of sorts when he returned to the Bothell area for a short time to teach junior high in the Northshore School District. Then, Jim, his wife and three children began another new chapter, one that propelled his career abroad to Germany, as an art specialist with the U.S. Special Services. There he experienced an entirely different cultural perspective and developed a love of travel that broadened his worldview.
Upon returning to the United States and to the northern Seattle region in 1973, Egawa decided to refocus his career on his own Native American culture. He dedicated the remainder of his professional life to reforming Indian education; he became director of the Lummi Education Center for the Lummi Nation and the Ferndale School District, organizing a state-funded Native American Education Program for K-12 students. Jim went on to direct Tacoma Schools' Indian Education Program for 30 years. His program reduced the student dropout rate from 30% to 10% and earned him national prominence.
Even after retirement, Jim was much sought-after for his experience and influence with Native students. He was brought out of retirement to work as an administrator with the Muckleshoot Tribal College – sadly, soon afterwards, he was diagnosed with cancer and died at the age of 63 in 2003.
From his 2003 obituary published in The Seattle Times:
"Jim was a leader, a visionary, an artist, a photographer, and athlete. He had many beautiful dreams of how to make this world a better place. He was always a devoted and loving father to his children and grandchildren. He loved to run, ski, hike, travel, visit the Pike Place Market, and be with his family. His sense of humor, laughter and contagious smile filled everyone with happiness and well-being. The love and joy he shared with so many will be greatly missed, especially by his family. He will live on in our hearts forever through countless cherished memories."
Jim Egawa's memory will also live on at the Anderson School via Carol Meckling's painting. He is just one of the many influential, interesting people who will be celebrated through art and history woven across the walls, throughout the rooms and among the pipes and doors and ceilings at our newest property.