Put your birthday party hats on, because it's time to paint the town red -Ruby red, in honor of Ruby Ale's 25th Birthday.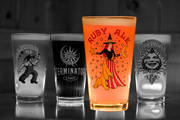 That's right, the popular ol' gal was first brewed on March 21, 1986, at the Hillsdale Brewery, and with its light taste buoyed by, of all things, raspberry puree. The original recipe (seen below) was more bitter than today's incarnation of the beer. McMenamins brewer John Richen explains, "This version was very heavily hopped among other things: six pounds of hops for a 110-gallon batch versus [today's] half-pound of hops for a 210 gallon batch."
Of course, Ruby's signature is the light streak of raspberry flavor that infuses the beer with a beautiful red glow. Ruby gets her fruity zing from 42 pounds of raspberry puree added to every 210-gallon batch. No wonder she blushes so much!
Legendary beer writer Fred Eckhardt gave Ruby props from the get-go. In an Oregonian article he wrote in April of 1986, Eckhardt noted, "The Hillsdale people have gone bonkers (as usual) with Big Pink Cherry beer (already gone), they are now on Ruby Tuesday raspberry beer."
She was a popular gal from the start, and folks' love for Ruby hasn't waned in over a quarter of a century. She's our number one-selling bottled beer, and number two most popular beer company-wide.
Besides her light, fruity flavor, another part of Ruby's popularity rests in her image, crafted by McMenamins artists Lyle Hehn. As Lyle tells it: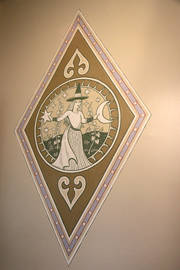 The first image of Ruby came along some years after the ale had become successful. In 1992, I was painting decorative patterns on the walls of the Administrator's House at Edgefield. When I got to the kitchen, I found an area that needed something more than just a border design. Europeans have a tradition of hanging a little witch doll in their kitchens for good luck. This kitchen would get a painted version. I tried to make the line work in the figure resemble the style of crude medieval woodcuts. This explains some of the ambiguity in the lines and why Ruby's costume would not be very practical in real life. Later, when McMenamins wanted to print coasters advertising Ruby Ale, I based the design on this painting at the Administrator's House. The most recent painting of Ruby is in a medieval banquet scene on the West wall of the Broadway Pub in Portland.
So there you have it: A few facts on the lovely lady you've been sippin' these many years. Here's to 25 more!
For info on all the rest of Ruby's celebratory gatherings, events and specials (and they're happening at all of our locations!), go here!
RUBY'S ORIGINAL RECIPE
1st Ruby:
Batch #67
date: 3.21.1986
Brewed at Hillsdale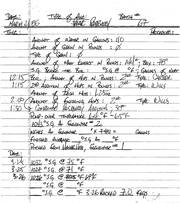 RUBY'S CURRENT RECIPE
Malts: Great Western Premium 2-row Malt
Hops: Vary
Fruit: Oregon Fruit Product Aseptic Raspberry Puree
Yeast: Proprietary McMenamins Strain
Alcohol by Volume: 4.39%