In case you haven't heard yet: The Anderson School is a go.
This is not a drill.
Repeat: The Anderson School is a go.

A little background
Built in 1931 as Bothell Junior High School, the building was renamed W.A. Anderson School in 1956 after its beloved retiring principal. The entire property encompasses nearly five and a half acres and is about 13 miles north of downtown Seattle. The structure is three stories high in a mix of Georgian, Art Deco and something called Zigzag Moderne, designed by Seattle architect Earle Morrison. In 1941, additional classrooms were constructed and in 1959, three ancillary buildings were added to the property.
Morrison "is perhaps one of the best-known architects, at least as far as the general public is concerned, in the State of Washington. Scarcely a town in the state cannot show an example of his handiwork." Along with many other junior and high schools, he designed the Mount Baker Lodge and Seattle's Eighth Avenue (now Nettleton) Apartments, which in 1949 was the largest apartment house west of the Mississippi.
The McMenamins renovation (taking place over the next 13 months, give or take) will include the construction of 73 hotel rooms with private baths, restaurants and small bars, an onsite brewery, a movie theater and a massive soaking pool with a full-service spa. Outdoor plans include courtyards with fire pits, a space for live music, gardens and additional community green space connected to nearby Horse Creek. All of this is (all together now) subject to change.
So, what's happening right now?
Both the artists and the history department (that's us!) are already moving forward. We met in 2013 with Bothell alumni at their summer picnic to make preliminary connections and hear former students' thoughts about the project. Just last month, we reconnected with alumni and members of the local historical society to set up interviews, scan photos and hear some of their fantastic stories about what it was like to attend school there, teach there, work there and live in the Bothell community.
Later this week, we'll meet with our own McMenamins artists as well as a brand-new batch of regional artists who were selected to help out with this enormous undertaking – because there are five and a half acres' worth of headboards and murals and orbs and pipefaces and borders and walls and doors and exit signs, all in need of some colorful "historic surrealism," as the artists call it.
In the meantime, here is just a bit of all the stories coming to light – these about W.A. "Andy" Anderson…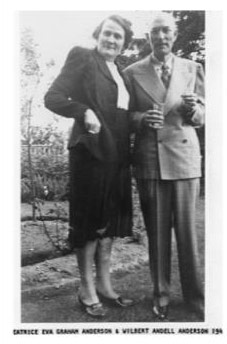 Wilbert Andell "Andy" Anderson was born in 1892 in Seattle to newly emigrated Norwegian parents. The family established a farm outside Bellingham and spoke only Norwegian in their home.
He served in the Navy during WWI, then ran the general store at Neah Bay outside Bellingham which served primarily the Native Americans who lived there on the Indian Reservation.
He began a teaching career in the early 1920s at Roslyn, WA, a coal mining town (where the TV show "Northern Exposure" was filmed in the 1980s). There he met and married his wife, Beatrice in 1924.
He and his new bride fled for Seattle as soon as they could, where he worked a series of different office jobs. Andy went back to teaching in Seattle, at first, and then by the end of the 1920s, he and Beatrice relocated to Bothell, where he became principal of the elementary school.
In 1931, Bothell built a new school to serve as a junior high within the growing district, and Andy Anderson was put in charge of it. He was a very popular and effective administrator. He did not have a booming voice, but was kind and gentle, though firm. (He had a box of confiscated squirt guns in his office.)
He had a wonderful sense of humor, and relished being a storyteller. He pulled pranks on friends and family.
He once made a batch of beer in his basement. It was terrible. No one wanted to drink it, and eventually, the container it was in exploded.
After a 25-year career, he retired as Bothell Junior High principal, at which point, as a tribute to his good work, the school was renamed the W.A. Anderson School.
Anderson was a great outdoorsman and loved to fish in the rivers around Bothell. He brought home lots of fish for family dinners. He died in 1958 while fishing on the Skagit River.