A Blog About the Ghost Logs
It's no big secret that some of our joints are thought to be haunted. The White Eagle Saloon & Rock 'n' Roll Hotel, for example, has long been included on lists of Portland's most haunted spots, while Edgefield in Troutdale, Ore., even made it onto a national list of "Top Ten Most Haunted Hotels"!
We can neither confirmed nor deny these reports – who are we to say either way? But you, our guests (and more than a few employees), are more than welcome to form your own conclusions — and many of you have over the years, so many that several of our properties keep ghost logs at the front desk. So when someone comes down from their room and starts by saying, "You're going to think I'm crazy, but…" we simply hand them the ghost log and a pen.
Here are just a few excerpts from the ghost logs over the years… and some may say it's just the Hammerhead talking, but who knows for sure… Do you dare to stay the night with us, maybe get the chance to record your own entry in our ghost logs? Or do you already have a tale to tell?
---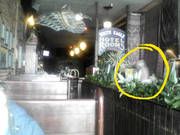 "Sensed a middle aged/elderly woman standing over the bed. Fought out of sleep. No one there."
"I was doing housekeeping about a month ago and I was standing at the foot of the bed when suddenly I felt 'something' firmly grab my ankle and not let go until I jumped away. I looked under the bed and there was nothing. Freaked me out a little." – As noted by hotel housekeeping staff
"I felt a quick breeze and the strongest sweet scent came over me. It smelled like flowers, kind of perfume-like. . . . I lay in bed for an hour and saw shadows dancing on the walls, the ceiling and the window. Spirits were flying around the room – it was a great encounter."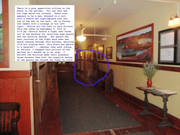 "A a woman informed us at check-out that she awoke to someone standing over her. That afternoon housekeeping reentered the room after cleaning it to find pillows tossed about. Then we had [another guest feel a] tap-tap on her chest in the middle of the night."
"I was taking a shower then all of a sudden I felt a hand grab my butt. I screamed and grabbed my towel to dry off and get my clothes on. Right as I spotted my shirt, it flew up in the air!" — (We, uh, apologize for that one… we'll have the manager speak to the ghost in question.)