"A FAMILY, A FAIR" : A Piece by Joe Cotter, 2010
*****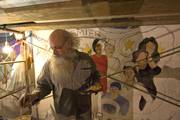 Note: Local artist and beloved McMenamins contributor Joe Cotter passed away on Saturday, March 31, 2012. This is the first post in honor of his lovely, magical artwork that can be found throughout McMenamins' establishments. We have lost a friend and one of the color masters of the company. Cheers, Joe.
*****
Joe Cotter has long been at the fore of artistic pursuits in Oregon. And it's been McMenamins' good fortune that, for several decades, Joe and his wife, Kolieha Bush – also an artist of remarkable talents – have done exceptional pieces throughout the McMenamins' Kingdom. This mesmerizing painting by Joe celebrates the Oregon Country Fair, which rises every year outside of Eugene, in the rural town of Veneta.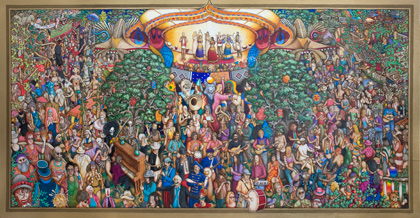 Joe, Kolieha and their children have been part of the wildly creative family at the Oregon Country Fair for decades. Their booth is a perennial favorite point of convergence for art, music and friends. With this amazing painting, Joe makes clear that over the past three decades, he has been both an enthusiastic participant and keen observer of this annual summer groundswell of creativity, activism and kinship at Veneta.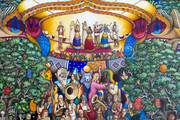 Painted over a period of three years, this work, with its intricate detail and grand scale, delightfully and lovingly chronicles the personalities and events of the Country Fair. "I was trying to get the feeling of what the fair's like," explains Joe. "It's pretty crammed there. There's a lot of creative energy… performance art, all kinds of art, spoken word, a lot of activists. There's just all this energy in this place. A lot of people see it as a renewal."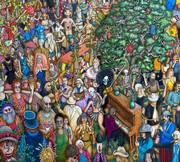 Along the meandering paths that run through the wooded site, connecting the central Gypsy Stage, the Main Stage, Community Village, Shady Grove, and Joe and Kolieha's booth, Joe's Country Fair is populated with fellow artists, performers and musicians who have become friends, and many have attained iconic status over the years. Scattered throughout are the Karamazov Brothers, Mother Zosima, the Spoon Man and Reverend Chumly. On the left are the Mud People and sword- and fire-eater, Mos Wright, beloved musician, Baby Gramps and Shoehorn & Curtis. In the foreground, holding the torch and wearing the yellow suit and fedora, is Ken Kesey. And over his left shoulder is the great Risk of Change Theater troupe.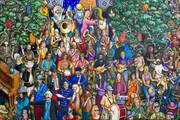 Centrally placed in the middle foreground are the Grateful Dead, who performed twice at the fair and helped raise money for the purchase of the site. Tom Knotty, the bubble guy, is also depicted. On the right, along the swollen path that passes by the Cotter family booth, stands musician Chip Cohen, who played with the Holy Modal Rounders, Mike and Brian McMenamin, Kolieha and both kids, and even Joe, the artist himself. "I'm there playing the trumpet," Joe points out. "I actually put myself in. I never do that."
In a deeper sense, it's clear that Joe put so much of himself into this painting.