As has been mentioned here in the past, we are in the process of renaming several of the Kennedy School guestrooms to celebrate the people who attended, worked and taught at the school.
Spring is not far off, and that means one thing to millions of kids across the nation: it's nearly baseball season. In tribute to spring tryouts, here's the story of a Kennedy grad who made it all the way to the top before coming back home to Portland.
---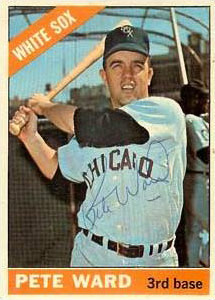 In 1944, young Pete Ward left his home in Montreal and, with his family, crossed the continent to settle in Portland. His dad Jim, a former National Hockey League forward, had been asked to put together a professional hockey team for the Rose City. Meanwhile, Pete found his footing at his new school, Kennedy Elementary.
Not surprisingly, the boy was quite a hockey player himself. But Portland was a baseball town and Pete quickly became infatuated with the sport. Those around him recognized he possessed remarkable skill for the game.
Pete and his buddies went as often as they could to root for the Beavers, Portland's professional baseball team, at Vaughn Street Park in Northwest Portland. He remembers that the local newspapers would even print up "excuses" for school kids to turn in to their teachers on opening day! No doubt one of his Kennedy School teachers, Mrs. Palmer, didn't mind – after all, she's the one who brought a radio to class during the World Series so she and the kids didn't have to miss a single play.
After playing stellar ball for Kennedy, Jefferson High School and Lewis & Clark College, Pete went on to a good career in the Majors. During his debut season in 1962 with the Chicago White Sox, Pete was runner-up for the Rookie of the Year Award (his White Sox teammate Gary Peters took the top honor). On June 7, 1965, Pete was even slated to be on that week's cover of Sports Illustrated – that is, until Muhammad Ali's first-round knockout of Sonny Liston led the SI editors to make a last-minute change. Pete, shown below, still has a copy of the cover proof they sent him, prior to Ali's knockout.
In total, Pete played nine seasons for the White Sox, Baltimore Orioles and New York Yankees. After his on-field career ended, he went on to coach and manage with the Atlanta Braves and in the Yankees' farm system.
Then he got the call to return home to Portland to be the manager of the Portland Beavers. While it would seem to be a dream job for this ex-ballplayer, he moved on after just one season.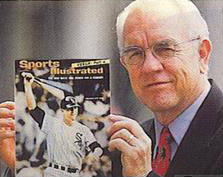 Pete left professional baseball to take "a legitimate job" – as a beer distributor for Miller Brewing Company. He even counted Mike and Brian McMenamin as customers, regularly filling their Miller orders at the brothers' earliest pubs in the mid-1980s.
After three years in the beer business, he tried his hand at something completely different – Pete Ward Travel & Cruise Center. He says he's as proud of his success in the travel industry as he was in his baseball career. He even managed to combine the two pursuits, organizing chartered tours, by both bus and plane, to ballparks around the nation.
We tip our caps to Kennedy School graduate Pete Ward, a member of the Oregon Sports Hall of Fame, the Canadian Baseball Hall of Fame and the Chicagoland Sports Hall of Fame.