A Tribute to Mike Ryerson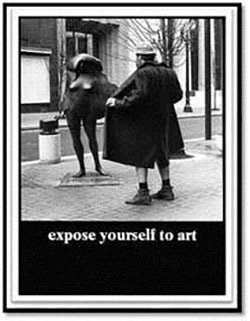 In 2014, we wrote about this famous Portland poster, an image that went viral before "becoming viral" was even a thing.
The Expose Yourself to Art (1978) poster, featuring soon-to-be Portland mayor Bud Clark flashing a bronze statue, was photographed by local journalist Mike Ryerson. The poster was initially conceived by Clark and Ryerson as a fundraising effort for the Venereal Disease Action Council. However, it struck a chord with people worldwide and went on to sell well over a quarter-million copies in just five years (and many more since then).
On January 6, 2015, Mike Ryerson passed away. Not only was he "a photographer, a baseball fan, a tavern owner, a political activist, an ad salesman, a journalist and a man with an encyclopedic knowledge of Northwest Portland," as noted in his obituary in the Oregonian, but Mike was a longtime regular and welcome sight at McMenamins Blue Moon, Tavern & Pool and Rams Head.
****
Mike's knowledge of Northwest Portland was phenomenal – he knew the stories behind every mansion, every site and every business up and down NW 23rd and well beyond. While he had served as Bud Clark's first campaign manager and later as press liaison, his longtime friend David James said that Mike's "true interest was Northwest Portland, its history and its future."
Mike was also coordinator and co-founder (along with our own historian Tim Hills) of the annual Slabtown Community Festival, of which our Tavern & Pool has been a sponsor and participant since its inception in 2007. The festival celebrates the historic neighborhood and the people who lived (and live) within its bounds. Ryerson also co-wrote, along with Norm Gholston and Tracy Prince, the book Portland's Slabtown about the neighborhood, and he worked with Tim Hills, the historian for McMenamins, to regularly do historical presentations about the area.
In recent years, Ryerson, along with local historian Tanya March, launched "Mike's History Tours," offering fun and expert history explorations throughout the Northwest 23rd Avenue corridor. Sponsored by many NW 23rd businesses, including McMenamins, it was always a fun and popular venture. March will continue the tours, as she was quoted as saying in the Oregonian.
Mike's untimely death was a loss not only to his many friends at McMenamins and throughout the NW Portland community, but to the state of Oregon. He was a true chronicler of Pacific Northwest life, history and more. Below is a detail from a painting by McMenamins artist Olivia Behm that currently hangs at Tavern & Pool, showing Mike with an issue of the NW Examiner community newspaper of which he was a part for 20 years.
******
Among the comments left on Mike's Oregonian obituary were these beautifully written thoughts: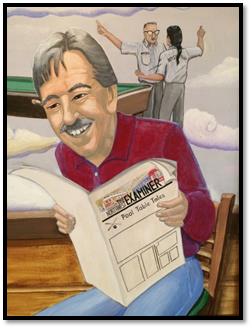 "Oh, such a loss… his efforts for helping and boosting NW business were renowned. … He needs a statue in Slabtown or Nob Hill. Wonderful person"
——
"I will miss him and his dedication to telling history accurately and interestingly."
——
"RIP Dad. I hope you are enjoying a cold one in Heaven."