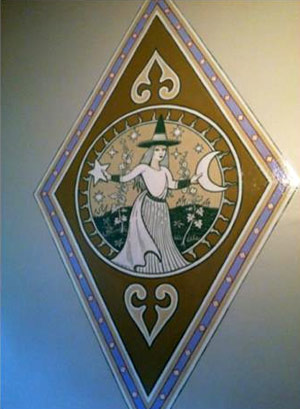 It's Ruby's birthday this Friday, March 21. The original Ruby artwork (left) is based on an old Germanic tradition of a kitchen witch that inspires productivity and safety, but that also dispels any ill-will directed to the home. Our Ruby has come a long way – she's gotten out of the kitchen and into our breweries, artwork, spas and more.
Here's artist Lyle Hehn's recollection of how one of McMenamins' best-known emblems came about:
"The first image of Ruby came along some years after the ale had become successful. In 1992, I was painting decorative patterns on the walls of the Administrator's House at Edgefield. When I got to the kitchen, I found an area that needed something more than just a border design. Europeans have a tradition of hanging a little witch doll in their kitchens for good luck. This kitchen would get a painted version. I tried to make the line work in the figure resemble the style of crude medieval woodcuts. This explains some of the ambiguity in the lines and why Ruby's costume would not be very practical in real life. Later, when McMenamins wanted to print coasters advertising Ruby Ale, I based the design on this painting at the Administrator's House where she still is today."
Here are a few lesser-known versions of the red-haired siren. Happy birthday, Ruby. You're a real gem.