April 6-9: The Sultry, Swingy Christabel & the Jons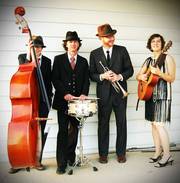 The stars of our current McMenamins Small Batch Tour, Christabel & the Jons may play an old-timey style, but the group is not anachronism. Rather, the quartet manages to coax jazzy genres from the past out of the mothballs and into the future. The result is simply gorgeous: A mélange of countrified folky jazz swing and, lately, a sultry bossa nova groove, above which floats the voice of Christa DeCicco. DeCicco's voice is tailor-made for jazz; her lyrics -sharp and clever-and melodies are more catchy than any pop song. Despite the bands penchant for thrift-store finds and acoustic instruments, it all feels very much grounded in the now, thanks to smart musical twists and turns, seemingly effortless blending of genres, and a sparkling energy.
Christabel & the Jons may best be known for listing toward the American roots side of things, but I'm a huge fan of their forays into bossa nova. Check out the video below and see for yourself.
And, don't forget, this unique group is only playing four shows as part of our Small Batch Tours, and then they're back to Nashville, so catch them now!
Wednesday, April 6
Old St. Francis School (Father Luke's Room)
Thursday, April 7
Kennedy School (Gym)
Friday, April 8
Rock Creek Tavern
Saturday, April 9
Grand Lodge (Garage Door)
All shows begin at 7 p.m. and are free. All ages welcome.