Posts by Julie Your "Cruise Director"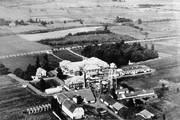 One hundred years ago, a special train traveled east from Portland, filled with passengers of remarkably diverse backgrounds, all bound for the same destination: the poor farm. They had been "rescued" from conditions deemed deplorable at Multnomah County's original poor farm, located where the Oregon Zoo is today. Now they were being placed in the just-completed, comparably plush accommodations of the county's new facility in Troutdale, accommodations that were in fact a far cry better than what could be found in most homes elsewhere in Troutdale at that time.
That's how the first residents of McMenamins Edgefield arrived in 1911. As mothers have warned us over the years, though, there were many ways one could end up at the poor farm.
Read More