History isn't all about black-and-white photos, old-timey characters and buildings long since gone. Sometimes you can discover history simply by talking to the people around you.
Read to the very end, to learn the incredible McMenamins connection here….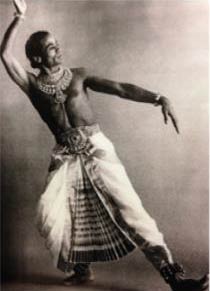 This is Bali Ram, a world-renowned classical Indian dancer. Born in Nepal in 1935, Ram today calls Bend, Ore., his home. Over the course of his lengthy career as a dancer, he has performed for kings and princes, presidents and emperors, celebrities and artists.
As a child in the Kathmandu Valley of Nepal, Ram was found to have an innate sense of rhythm, so he was sent to a rigorous dance academy in New Delhi, India. He trained for hours on end. He became highly skilled at this intricate form of dance in which the slightest movement has great meaning.
After his graduation from the academy, Ram's first step… was to work with Mother Teresa. For six months, he assisted Mother Teresa and her staff with their care of the poor and sick in Kolkata, India. He also entertained dignitaries with his beautiful dancing in order to raise funds for Mother Teresa's mission.
From these performances for foreign elite came more and more wondrous dance opportunities. In her book Bali Ram: Rhythm by Nature (2012), author Terrie Biggs reports on Ram's many adventures and exploits. Here are just a few examples:
He danced at the request of Pablo Picasso, whom he did not know was a famous painter.
He was flown from New York City (where he'd been performing at the United Nations) to Ethiopia in the emperor's private plane for a four-day celebration.
He performed for President John F. Kennedy and his wife Jackie (again at the United Nations in NYC) and met the president afterwards. Jackie sent him a handwritten thank-you note.
He was asked to dance again for JFK, some time later at the Indian embassy in Washington, D.C. Afterwards, the president asked Ram if he'd like to meet the entire Kennedy clan at their house in Palm Beach, Florida. He was flown there, where he and the president strolled on the beach and chatted.
Days later, after a performance in Los Angeles, Ram was greeted by none other than Marilyn Monroe, who admitted that "her president" had suggested she catch his act. Ram and Monroe then enjoyed tea together, as the paparazzi swarmed.
Recipes for Ram's Indian food were written up in the New York Times in 1965, in the "Food Fashions Family Furnishings" section. He also had his own TV cooking show.
He spent time living with Timothy Leary and his entourage in Millbrook, New York, before Leary was busted in 1967.

Ram eventually moved to Arizona, where he married, had two children and taught dance. In 2004, at the age of 69, his adventures brought him to Bend, Ore. He still dances in local performances, when he has time – the recent photo at left shows him with his performance make-up.
And he is still employed, at the age of 76 – where, you ask? As a cook at McMenamins Old St. Francis School.
We raise a glass to Bali Ram not only for his service with OSF but to the accomplishments and adventures he had before he joined our company. He has lived a truly remarkable life, and serves as a reminder that everyone has a wildly interesting story to tell.
The next time you are in Bend, stop by the kitchen to say hello to the world-famous Bali Ram.