"Big Red" stands tall at Cornelius Pass Roadhouse
Hello from the History Department.
This week, we delve into the archives for a blog about a remarkable piece of artwork at Cornelius Pass Roadhouse, one that has connections to… Star Wars?? It's true.
****
Made by Beaverton artist Joel Cottet (1948–2002), the sculpture was originally produced as a prototype for filmmaker George Lucas, of Star Wars fame. Lucas wanted Jedi-worthy lighting along the two-mile-long driveway leading to his Skywalker Ranch in Marin County, Calif.
Unfortunately for Lucas (but fortunately for McMenamins), plans for the torch-lined entry fell through. So in 2001, Big Red's formidable light came to grace our grounds instead.
According to past manager Raif Moon, the flame is eternal and has never gone out (not on his watch, anyway).
Another former CPR manager, Christopher Robbins, remembers that in order to protect our guests from burns or other accidents, "the gardeners planted these nasty, pokie plants, Devils Walking sticks, all around [the sculpture] to keep folks away from the flame…well of course everyone wants to get close and personal with it, so we had lots of bloody patrons until they were removed." [Ed. note: We must assume he is referring to the pokie plants being removed, rather than the bloody patrons.]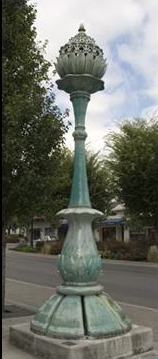 Other examples of Joel Cottet's artwork include the Lotus Tower (left), similar to ours in design and stature, which stands in downtown Lake Oswego, Ore., as part of the city's permanent collection. This jade-green piece is made of several sculptural ceramic pieces anchored together to form a column 14.5 feet high and 5 feet across, weighing in at 1,500 pounds.
Another impressive piece of Cottet's work, this time 10 feet tall in blue, can be found near our John Barleycorns pub in Tigard, Ore., on Bangy Road. There's even one called Big Green, a huge, 20-foot-high creation, which remains at the artist's studio.
You never know, perhaps Lucasfilm will come calling, looking for unusual props for the upcoming Star Wars: Episode VII, to be released on December 18, 2015. And maybe we'd hand "Big Red" over – on loan, of course.