This is the second installment in a series of blogs about our new Zeus Café at the Crystal Hotel, opening on May 3 in downtown Portland. Here, we take a look at what's on the menus.
---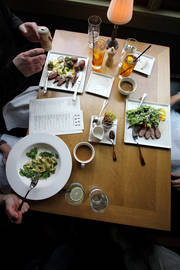 Just four more days 'til Zeus Café is officially open to the public. As of this coming Tuesday, May 3, you can stroll in any time after 7 a.m. for a quick bite to eat or a leisurely multi-course meal. You can choose a booth by the window or sit at our open showcase kitchen to watch our kitchen staff at work. No need for reservations – just roll on by whenever you're hungry or thirsty.
So, what will we be serving, you ask? Executive Chef Barry Rumsay and Chef de Cuisine Paul Arnold have put together a set of menus slightly different than what you expect from our pubs. For example, there's nary a tater tot on the menu. Nor will you find a Captain Neon burger. But not to worry – we've got you covered.
Read More