Coffee Liqueur v.2.0: A Few Extra Shots Thrown In
Are you a fan of our Coffee Liqueur, that silky, creamy delicious spirit that is a handcrafted collaboration between McMenamins Coffee Roasters and the Edgefield Distillery? It is wonderful on the rocks or mixed with vodka or added to coffee, to name a few ideas.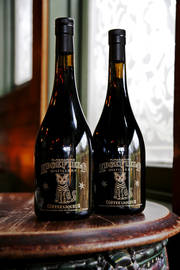 Your life is about to change. In a really good way. As of late January 2010, we began offering a brand-new Coffee Liqueur blend, one that contains a full 100 percent more coffee! Our Coffee Roaster Jen Apodaca was instrumental in selecting just the right type of coffee – she chose Ethiopian Sidamo, a bean with tasting notes of sweet milk caramel that is also a certified fair-trade organic coffee. While our first spirit blend used 35 pounds of coffee, this new version ups the ante with a full 70 pounds of coffee in the batch! Yowza.
So, what's it taste like? Rich. Sinful. Delicious. Or, as one of our distillers James Whelan puts it, like "a chocolate brownie."
And what's not to like about that? Order cocktail made with our delicious Coffee Liqueur at any McMenamins location or purchase a bottle at the Edgefield Distillery, Edgefield gift shop or the Old St. Francis School gift shop.