Connection to the Civil War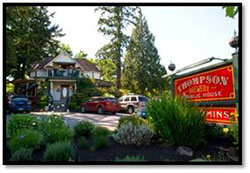 This week, we take a look at one of our properties' direct connections to the Civil War – no, not the yearly Ducks/Beavers mêlée, but the actual War Between the States (April 1861-May 1865). The beautiful Salem home that is known today as the Thompson Brewery & Public House was built by hand by a Civil War vet and his son in 1905 – Franklin Thompson's story is below.
Think about Franklin's lasting legacy, both on the battlefield and here in Salem what was once a bucolic agricultural field, on Saturday, June 13, when the pub celebrates its 18th Annual Barley Cup Brewfest. Come enjoy a pint of original beer, both McMenamins-brewed and otherwise, such as Jacked Rabbit Lager, Treehouse Apricot Honey Summer Ale, Sure Shot Sake Milk Stout and many others. (Kindly leave your Confederate gray at home, though, just in case – no sense in disturbing the original homeowner, who is said to still keep an eye on the place.)
*****
Franklin Thompson couldn't shake his memories of the war even if he wanted to. The namesake of Thompson's Brewpub and Public House in Salem, OR, fought in some of the last, desperate and most decisive Confederate defeats of the Civil War. Franklin was just 23 years old at the conclusion of his service.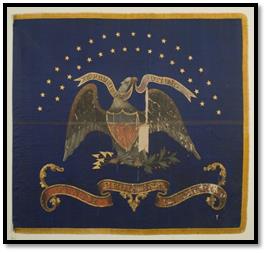 His outfit, the 10th Minnesota Infantry Regiment (its flag shown here), had contributed to the federal troops' undoing of the Army of Tennessee at Nashville late in 1864, and the assault and capture of Fort Blakely at Mobile, AL, the last major battle of the war. In total throughout their active duty, Thompson's regiment suffered two officers and 35 enlisted men killed in action or who later died of their wounds, plus another four officers and 111 enlisted men who died of disease, for a total of 152 fatalities.
Franklin Thompson, like many young soldiers, could never have been prepared for what he was to see and do in combat. Prior to the war, he had lived the tranquil life of a farmer in rural areas of Wisconsin and Minnesota. His father before him had also been a farmer.
After the war, Franklin returned to agrarian solitude, but to an extreme that suggests he was trying to keep thoughts of war at bay. He moved to the frontier of south central Minnesota and in 1868 was among the organizers of Evansville Township. It was said of Evansville's beginnings that the original settlers were hardy souls who didn't ask for or expect government aid. They voluntarily came to this wilderness for the opportunity to select free land, and here built primitive log cabins in which to live, and eventually fields of crops and livestock were added. Scant funds existed for community improvements, despite an overwhelming need for good roads and bridges. The new community of homesteaders banded together on some projects, but mainly they made do with what they had. It was a harsh existence in those early years.
Soon after settling and despite this difficult environment, Franklin married a Vermont transplant named Maria, and the couple dug deep roots at Evansville. Over the next four decades, Franklin and Maria raised five children, worked their farm, and contributed to their civic duties (i.e., Franklin served as justice of the peace).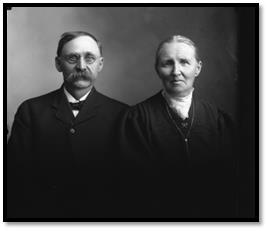 At the turn of the century, with their kids grown, Franklin and Maria (shown here, in 1907) retired to Salem, OR, on the recommendation of their son Fred. Fred Thompson had previously discovered the capital city and invested in land on its southern perimeter. He convinced his parents to buy a five-acre parcel alongside his 25 acres. Father and son first built a barn where their families lived until Fred completed construction of suitable homes on both their respective properties. Fred further championed development of the emerging suburb, called Salem Heights, by establishing its first school, grocery store, community center and cemetery.
Franklin and Maria moved into their fine Victorian home (today's Thompson House Brewery & Public House) in 1905 and shared what must have been 20 pleasant years there, accompanied by grandchildren, family and new friends. In their waning years they watched their new surroundings literally blossom into an orchard and residential district.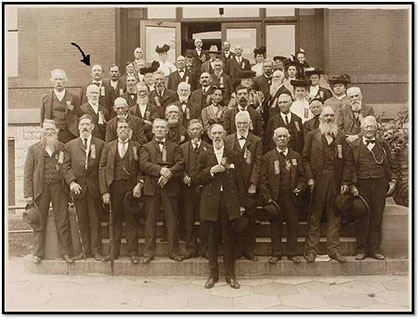 For Franklin, though, his harrowing experiences as a soldier never completely left him. He remained an active member of the local chapter of the Grand Army of the Republic, the nation's largest Civil War vets' organization. This 1905 photo of his regiment's reunion appears to show a gentleman (see arrow) who looks very much like our Franklin. He was 81 when he died at his Salem home in 1923.
McMenamins employees and customers might argue the point that Franklin Thompson never left the building that now houses the Thompson brewpub. A sufficient number of unexplained second-story ramblings and mysterious happenings have warranted the belief that the old Minnesota infantryman may still be attempting to reconcile the haunting scene of desperate Confederate soldiers rushing toward him with a rebel yell.
***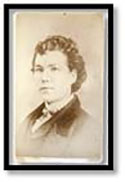 Semi-related side note too good not to mention: Sarah Emma Edmonds was a Canadian-born woman who disguised herself as a man and went by the name "Franklin Thompson." She served with the Union Army during the Civil War and described her daring exploits in her bestselling book Nurse and Spy in the Union Army (1865). In 1992, she was inducted into the Michigan Women's Hall of Fame.