Ducks or Beavers? All Welcome at McMenamins East 19th Street Café
This Friday, 11/29/13, the Civil War between the Ducks and the Beavers rages ever onward, with fur and feathers flying.*
Although it was first played in 1894, it isn't officially the 119th annual event – there were several years during which the game wasn't played at all and two years in which the game was played twice. Games have ended in joyful parades and have ended in violent riots. It is a longstanding rivalry, with victory changing hands time and time again through the decades.
At McMenamins East 19th Street Café in Eugene, Ore., there is a message for all who pass through its doors, be ye a Duck or be ye a Beaver…. Maybe you've noticed it or maybe you've passed right on by, en route to get your passport stamped or have a beer. It's worth a moment to stop and have a look.
* I have no horse in this race between ducks and beavers. All reports are 100% without bias.
• • •
Opened in 1989 (and expanded in 2007), the E. 19th Street Café is actually located on E. 19th Avenue, just steps from the U of O campus. It's a casual, student-friendly hangout and a great place to go after music or sports events.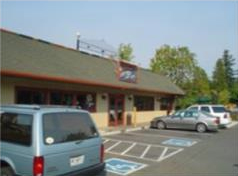 Located near the front door stands an unassuming yellow wooden pole. You can juuuuust about make it out in this photo (credit: Scott Mitchell). At the moment, it seems like an oddly placed parking barricade. However, it's actually a globally known symbol bearing an important message! When the pole in front of our pub was first installed, each of its four sides read "May Peace Prevail on Earth" in a different language.
This simple marker is actually one of over 200,000 installed all over the world. The Peace Pole Project was founded in Japan in 1955 by Masahisa Goi, who dedicated his life to spreading a peaceful message in response to the bombings on Hiroshima and Nagasaki.
People and organizations inspired by his message have installed these elegant, simple reminders all over the world – for example, you can find a Peace Pole just like ours at the Magnetic North Pole; at the burial site of Confucius; and at the Pyramids of Giza.
The word on the street is that the stickers bearing the important peaceful words that had worn off our Peace Pole over the years will soon be replaced, thereby reinstating a message of acceptance and understanding to all who pass through our East 19th doors.
So as you're watching the big game this Friday, calling for the blood of all [insert least favorite team here], remember the Peace Pole. And give peace a chance, man.
• • •