Here's the story of another Irishman (along with his predecessors Father Luke Sheehan and Father Dominic O'Connor) who made his way around the globe to St. Francis School in central Oregon — and then nearly burned the place down, minutes after his arrival. Today, Father Bill Coughlan has a room named after him in the new Ed House in Bend.
P.S. Remember that this Saturday, we are having a grand opening celebration for both of OSF's new lodging buildings- the Ed House, which pays tribute to school's legacy of outstanding educators, and the Art House, which celebrates the work of our McMenamins artists.
****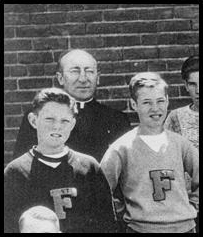 "Bill Coughlan is equipped with one of nature's best senses of humor. This alone made him a welcome guest anywhere. . . . He found time to make sure his own brand of humor and humility was available to everyone, regardless of church affiliation." – Phil Brogan, The Bend Bulletin, 1965
Jeremiah Coughlan was born in 1908 at Ballydehob, County Cork, Ireland. At the age of 26, he was ordained as a Capuchin Franciscan and became known as Father William Coughlan. He was sent to America in 1935, where he was appointed assistant in Roseburg, Oregon, and from there he was sent to Bend as assistant in 1936, at the time of the St. Francis School's opening. He'd be transferred and return to Bend multiple times over his career.
Father Bill quickly became a well-known fixture in town. From lay people to clergy to former St. Francis students, everyone gained an appreciation for and shared colorful encounters with the witty Irish priest with the thick brogue.
However his introduction to the Bend community was an inauspicious and dramatic one. In the hurry of leaving Roseburg, Father Bill had forgotten some personal items; upon his arrival at the Bend rectory, he immediately sat down to write a letter about his missing things. However, when he'd moved his suitcase to the side, it hit an exposed light switch and a fire started!
I called the fire department. They were here in seconds. This was in the old rectory . . . the men were efficient and the smoke was all out very soon. Suddenly this uniformed man identified himself as Chief Tom Carlon. I said that I was very glad to meet him. I went to the inside pocket of my outside coat and took out a letter and handed it to the chief. He read it and we shook hands. He said: "That is great, but you didn't have to set fire to the house to get me up here to give me this." The letter was one of introduction from Mr. Chuck O'Malley of Roseburg. Chuck was a nephew of Tom's.
When the parish founder, Father Luke Sheehan, came home that evening, he had already heard all about the near-disaster. "Isn't it a wonder," Father Luke joked, "that the first good thing you started you did not finish!"
As for the rugged Bend environment, Father Bill didn't take to it right away. "[H]e thought it was the most awful place he'd ever seen," recalled a parishioner. He fell ill with a bad cold soon after arriving, but Father Luke still sent him off into the backcountry of the diocese: "There was a huge area east of Prineville that a priest had not visited for some years. [Father Luke] told me to go there. . . . I spent the first night at a camp at Ochoco. Then I went to [a stage coach stop] at Service Creek. Next day I took a forest road towards the southeast. I met no one for four hours. Finally I got to a ranger station."
A month later, safely back home in Bend, Father Bill had an epiphany. After saying high mass on Christmas Day, he came out of the church afterwards to lovely, quietly falling snow. "He said it was so beautiful that he fell in love with Bend right then," a parishioner recalled.
And the people of Bend returned his love, recently recalling anecdotes and memories of their interactions with him: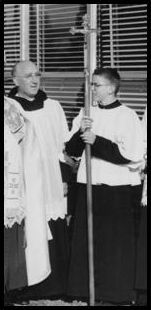 "[Father Bill] would literally just spend his days walking in and out of the bars. He was all over the place. He was another one who forged those relationships with all the people in town. He was kind of amazing." – Sister Jane Hibbard, principal at St. Francis School
"At the 11 o'clock Sunday mass, he'd sit in the back, and he'd have a number counter puncher. He'd walk up and down. . . And if you tried to leave at communion, you had to go back. It was a big deterrent to trying to sneak out: Father Bill." – Dave McClain, former St. Francis student
"Every winter, Father Bill got annoyed by skiers who came to the early Sunday morning mass dressed in their ski boots and parkas and ducked out of the services early to head to the slopes. One time, he told one such skiing parishioner, 'You won't need those cold-weather clothes where you're going.'" – Father Brian McKenna
"Us kids loved him. He was just wonderful. . . .Whether you were a kid or not, if he knew you, you could expect to get [some kidding from him]." – Former student Betty Tauscher Hall
"When we moved here, we would go to confession on Saturday evenings and neither he nor Father Leopold would stand for a young woman coming in with their hair in curlers. And at that time, of course, that's what a girl did until she got dressed to go out. . . . Father Bill believed what he believed and he was going to teach everybody else what he believed." – St. Francis parishioner
In 1940, Father Bill was transferred on to other communities in Oregon and California, returned to Bend as chaplain at St. Charles Memorial Hospital, and was transferred south again. In 1985, he passed away in California and was laid to rest. So we raise a glass (a good Irish whiskey, of course) to his wit and humor, his strict adherence to tradition, his loving support of the community and his compassion for all. Slainté, Father Bill.