I am working on a 4'x6′ panel, which will be in the new Crystal Hotel dining room and is a tribute to Gary Ewing, a figure well known in some circles for his psychedelic light shows.  He was born and raised here in Portland, went to San Francisco in the heyday of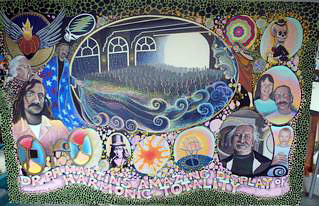 Psychedelia, that being the late 1960's.He created light shows at San Francisco's Avalon Ballroom, Straight Theater, the city's Trip Festival, and much, much more. He also called himself Dr. P.H.Martin. Upon returning to Portland, he was associated with the Family Dog promotion group, and did a lot of light shows at the Crystal, and other venues here in Portland for groups they were promoting, among whom were The Grateful Dead, the Fugs, and the P.H.Phactor Jug Band.
To me, this tribute piece is about Gary and light. Because I am a painter and work in a grosser substance, it's a challenge to portray light. But, that was his creative gift.  He strived for what he called, "Harmonic Totality", which must have been a mixture of music, light, movement, and positive vibes that reached a form of ecstasy.  Sounds like fun.
Luckily, he was visiting the Crystal several years ago when we were engaged in some repair work, and he graciously allowed me to photograph him.  I have used that photo as a reference for a portrait in this piece.
Anyway, I am very happy to be paying some tribute to this man who played such a big role in the music, performance and creative life of Portland.