Get Ready for the New Broadway!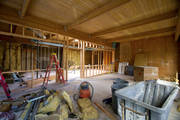 You may have noticed the hammers and saws out at our McMenamins location on Broadway. Maybe you've heard the thud of a nail gun, smelled a hint of sawdust in the air.
Yep, we're remodeling.
Let's get this out of the way first: Broadway is still open during this exciting time of expansion. We're still here to serve up tasty Northwest pub grub and fine, handcrafted McMenamins brews (what, you think we'd deprive you of your Hammerhead?). Heck, you'll probably barely even notice the work going on.
But, by the time we're done, the new Broadway Pub will be bigger, more comfortable, and have a revamped, improved menu that will complement our already popular fare.
What are we adding? Well, a heated outdoor patio for starters, plus more seating all around and a touch more room all around! And our new and extensive menu will include hand-tossed pizzas!
Next time you're shopping at Lloyd Center or on the way to the Rose Garden to see a concert or a game, stop by the Broadway pub and check out the progress yourself. In the meantime, check out our slideshow of photo updates – it's a cool way to follow along as the new spaces get bigger and better!