Give Thanks for the Meeks
Saturday, March 8, we celebrate the 92nd birthday of the Grand Lodge, built in 1922 as the Masonic and Eastern Star Home for the State of Oregon "for the aged and infirm,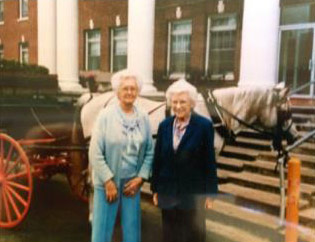 and the poor and distressed worthy Master Masons, their widows and orphans . . ."
One of its residents was Alice Meek Inkley (left, on the steps of the Grand Lodge), for whom we named an event space. (She had been a licensed beautician, and that particular room was the lodge's former beauty parlor, so that makes sense). But who was she? Read the tale of her true Oregonian lineage….
---
Alice Meek Inkley (1902-1992) came to the lodge in the 1980s and lived there 'til her end. She was described as resolute, independent, and resourceful, and not without a naughty streak (like the time she dumped a pail of water over a fellow elderly resident's head for being ornery).
Her daughter Michelle remembered that there wasn't anything her mother couldn't do and that she worked as hard as any man. Alice married young (age 18), but divorced her husband after 16 years, with two young children in tow. She never requested alimony from her ex-husband. Instead, she forged her own way. Alice did leatherwork, tarred a roof, painted a house, laid flooring, cultivated a garden full of beautiful roses. She studied fashion design and was a tremendous seamstress. She created artwork with pastels, oil paints, and pencils. She made wooden shoes and ladies' feathered hats, and was an excellent cook. She was a pretty cool woman.
Where did Alice gain her spirit, attitude and incredible force of will? It likely had something to do with her incredible family genes:
Joe Meek (1810-1875) (Alice's grandpa, below right) is known as one of the very earliest Anglo Americans to settle in Oregon. This trapper-turned-law-enforcement official and politician was instrumental in bringing Oregon into the Union and was eventually selected as the United States Marshal for the Oregon Territory.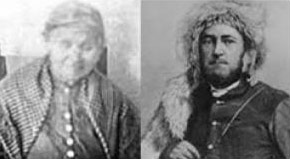 Meek said, "I want to live long enough to see Oregon securely American . . . so I can say that I was born in Washington County [Virginia], United States, and died in Washington County [Oregon], United States."
Joe had a succession of three wives, his last being Alice's grandmother (far left), who was the daughter of Nez Perce chief Kowesota. Her original name is unknown, but Meek called her "Virginia," after his home state. Virginia Meek (ca. 1820-1900) left her Idaho tribe and followed Joe west. Over the next 23 years, she gave birth to 12 children only to see six of them survive. Her children and grandchildren remembered her fondly – she told them stories of her early life and would sing them tribal songs from her Nez Pierce ancestry.
Alice's father, Stephen Meek (1857-1943) was the youngest surviving child of Joe and Virginia's 12 children, and was likely named for his uncle Stephen, a frontiersman who was hired to lead the first wagon train along a northwestern Oregon route, a particularly difficult and notorious journey on which many pioneers lost their lives (see Meek's Cutoff [2010], a bleak film starring Michelle Williams).
Alice's mother, Gertie Pasley Meek (1879-1946), was an artist, writer, and community leader, and also 22 years her husband's junior. Her daughter Alice was one of 10 surviving siblings who were raised in North Plains on an early Meek family settlement. Later in life, Gertie interviewed her mother-in-law, Virginia, about her Native American childhood and family and began to write a manuscript but never finished it.
---
The Meek family was (and possibly still is) a close-knit group – their Meek Family Picnics were held for years at Champoeg Park, near Salem. Which is only fitting, as it is the site of the Champoeg Meetings, the first attempts at governing in the Pacific Northwest by European American and French Canadian pioneers in which their family patriarch Joe Meek played a prominent role.
Raise a glass this weekend at the Grand Lodge to the Meek family – without them, the Oregonians among you perhaps couldn't call yourself Americans.