The Broadway Pub in NE Portland has a meeting space called the Gladstone Room. Who was Gladstone and what is his connection to the pub? Is there any connection at all? Wellll, yes and no…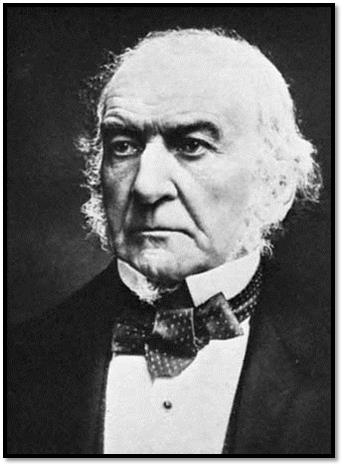 First, the history lesson: A four-time liberal prime minister of Great Britain, William Gladstone (1809-1898) was one of the leading politicians of the Victorian era. He was an impassioned lobbyist on a variety of issues, including abolishing taxes, cutting government spending and perhaps most important, establishing home rule for Ireland. He was married to his wife Catherine for nearly sixty years – she was noted as being "a woman of complete discretion, and exceptional charm, utterly devoted to her husband, to whom she bore eight children." This discretion and devotion were undoubtedly put to the test over the course of six decades, as you will read below.
Next, Gladstone's connection to our Broadway Pub: Opened in 1990, the pub was located in a brand-new, rather sterile office building that hadn't had time to acquire its own color and history. Mike McMenamin recalled that Hank Langfus of Portland Antiques showed him a painted portrait of William Gladstone. So Mike bought the painting, thinking it would lend the new bar a little Old-World depth, personality and character. At the time, Langfus remarked about Gladstone, "He lived with prostitutes." Mike's reply: "Perfect for a pub."
To clarify, Gladstone, along with his wife Catherine, took on the cause of reforming and rehabilitating London prostitutes beginning in the late1840s. However, Gladstone's work/life balance seemed to be in peril from the start. (And his efforts didn't seem to be affecting the ladies in question much, either.) In a biography of the politician, author H.C.G. Matthew writes: "The redemption of prostitutes was an activity which, in principle, had an obvious Christian justification. But for Gladstone it also involved temptation. Was the danger to his spiritual well-being balanced by the good he was doing? In his talks with prostitutes he 'trod the path of danger' as regards himself, while at the same time having little success in proselytising. By January 1854 he had spoken, 'indoors or out', to between eighty and ninety prostitutes but 'among these there is but one of whom I know that the miserable life has been abandoned and that I can fairly join that fact with influence of mine'" (Oxford: Clarendon Press, 1997).
In an interesting little bit of correlation, it was discovered during historical research of the Broadway Pub site that in the late 1800s, Fred Fritz and family had resided at NE 15th & Broadway, the same spot on which the pub stands today. Back in the day, Fritz ran some of old Portland's rowdiest, saltiest saloons–including the notorious Workingmen's Club, home to several working women, at NW 2nd & Burnside (formerly Erickson's Saloon). One wonders if Gladstone would have had the urge to rescue those soiled doves, as well.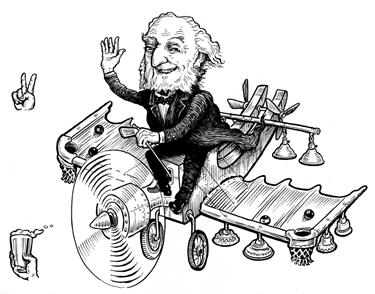 Now, fast-forward to 1990 in Portland. McMenamins artist Lyle Hehn, the creative talent behind many of the company's most recognizable icons, such as Ruby and Hammerhead, was tasked with creating the Broadway Pub's logo. In his own words, Lyle describes the lengthy process for this particular location:
An old framed portrait of Prime Minister Gladstone was hung on the north wall of the Broadway Pub. As far as I know, there was no connection between the pub location and the old politician. He was just there to watch the bar.
For about ten years I produced a growing stack of attempted logos and illustrations devoted to the Broadway Pub, but nothing seemed to stick. I still have the file folder of rejected images.
Sometime around the turn of the century (ed. note: the 21st century), Mike McMenamin and I met at the Broadway Pub to discuss various company graphics projects. At one point, he went off to take a phone call, and while he was gone, the idea of Gladstone piloting some goofy Hammerhead aeroplane just popped into my head. I made a quick sketch and when Mike returned to the table he looked at it and approved.
A few droll features are tucked into the drawing, for anyone with otherwise unusable time.
While Lyle may have known of Gladstone's causes and reformations, he omitted any political associations here, instead depicting one of Britain's finest politicians and the so-called "Grand Old Man" of liberalism nattily attired in bow tie and tails, waving jauntily while perched upon a billiards-table-turned-flying-machine. The end result is a celebration of Gladstone the historical character and that original portrait, as well as a nod to the Broadway Pub's low-fuss/low-budget original logo.