Iced Coffee Season is Here!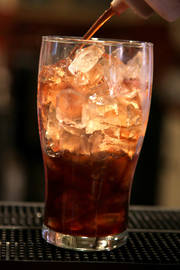 At the end of last summer, we represented McMenamins coffee roasters at the Hawthorne Street Fair in SE Portland by providing samples of our iced coffee at the Bagdad Pub. Although everybody we met that day was very pleased with the smooth, strong taste and the refreshing qualities of the product, they were often unfamiliar with it. So here's the story…
Three factors lead to success in making an extraordinary iced coffee: 1) bean quality, 2) coarseness of the grind, and 3) extraction method.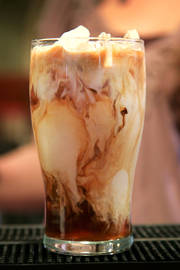 With all coffee products, the first step is to select and roast the beans. For our iced coffee we use McMenamins house blend, a mix of Sumatran Mandehling and El Salvadoran Santa Rita beans that are brought to a medium roast in small batches using our L25 Probat roaster. The result is a blend that possesses a smooth taste with hints of chocolate and hazelnut. Once our beans are roasted and blended, we have the base needed to achieve the desired result. The next thing to do is grind the beans coarsely. Since coffee begins to oxidize and lose flavor immediately after grinding, this is done directly prior to brewing.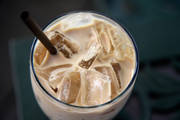 The technique we use to brew our iced coffee is a cold water extraction method, or cold press. This method produces a very smooth taste without watering down the coffee and diluting the flavor. Although there are other, less labor-intensive methods of preparing iced coffee, these often produce undesirable results. Cooling down strongly brewed hot coffee, for example, requires letting the product sit for a time and can leave it tasting stale and bitter. Another one of these underwhelming brewing techniques is to simply add ice to a cup of hot cup of coffee. This, however, will make the beverage taste watery and less flavorful. Although the cold water extraction method requires extra attention, it is well worth the effort.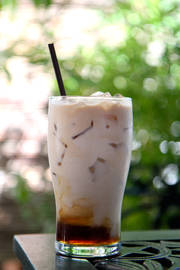 We add two quarts of cold water for each pound of coarsely ground McMenamins house blend, then soak it for a predetermined amount of time until the flavors are thoroughly extracted. Finally, the liquid is separated from the grounds using a strainer and cheesecloth or paper filter. The result is a highly potent extract that is mixed with cold milk or water and served over ice. The beverage this produces yields a smooth, rich tasting cold drink packed with flavor and body.
McMenamins has perfected an iced coffee which is smooth and rich in flavor — it is the perfect drink for a hot summer afternoon in the Pacific Northwest, available at all McMenamins locations during the summer months.
Visit us at the Bagdad Theater during this year's Hawthorne Street Fair on Sunday, August 28, 2011, for a taste of our iced coffee and more.