Irish eyes will be smiling all March long with the arrival of McMenamins Irish Stout.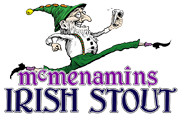 This is our Saint Patrick's Day Seasonal and will pour exclusively on our 'Nitro' taps the entire month of March. McMenamins Irish Stout is our interpretation of the internationally renowned beer style that originated in Ireland and was popularized by legendary brewing institutions, such as Guinness, Murphy's and Beamish. Historically speaking, the style emerged early in the 19th century from attempts by Irish brewers to capitalize on the success of London porters. To cut costs, unmalted (and therefore, untaxed at the time) roasted barley was used, which imparted a unique and distinctively different coffee-like bitterness to the flavor and aroma of the ale. Thus, a new beer style was born.
McMenamins Irish Stout is made as traditionally as possible with our own little twist. It is a very dark, ebony-colored stout with a thick, creamy and long-lasting head. The flavor is a fantastic fusion of coffee- like roasted barley bitterness and semi-sweet chocolate. A moderate hop bitterness balances pleasingly with this hearty backbone, while tiny nitrogen bubbles enhance the sensation on your taste buds with a smooth, silky creaminess. One sip will have your head in the Emerald Isle clouds. A touch of the Irish, the blessings of St. Patrick and a pint of McMenamins Irish Stout to you!
May your thoughts be as glad as the shamrocks
May your heart be as light as a song
May each day bring you bright
Happy hours that stay with you all the year long
–Irish toast
Ingredients: Great Western Pale Malt, Grain Millers Flaked Barley, Hugh Baird Chocolate Malt, Hugh Baird Brown Malt and Hugh Baird Roast Malt. Chinook and Yakima Goldings provide hop bitterness and flavor.
Alcohol: 4.90% by volume