Jay Farrar + Woody Guthrie = New Multitudes!
Beardos, take heed! All your dreams are about to come true!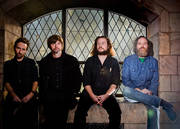 Seems some of America's most favorite be-whiskered gentle rockers have teamed up to tackle a very Americana-esque task. Going under the moniker "New Multitudes," Jay Farrar (Son Volt, Gob Iron, Uncle Tupelo), Will Johnson (Centro-matic, South San Gabriel), Anders Parker (Varnaline, Gob Iron) and Yim Yames (My Morning Jacket, Monsters of Folk) have joined forces, gathered up some previously unpublished Woody Guthrie lyrics, and set them to their original compositions, on which they all collaborated.
The result: the New Multitudes album, which comes out today. We like how Rolling Stone's Will Hermes describes it:
Making séance music from dead singers' notebooks is now a familiar songwriting practice, and this session, spearheaded by Jay Farrar, taps the same source Jeff Tweedy (his old Uncle Tupelo partner) took with Billy Bragg on the two Mermaid Avenue LPs: Woody Guthrie's fat verse archives. Four singer-songwriters tag-team in a folk-rock vein, and the high points are when voices unite; see the title track and the Jim James-led "Talking Empty Bed Blues." Elsewhere, dudes sound like themselves, but with mouths full of Guthrie's wit and soul. 
Mmmmm…mouths full of wit and soul…
We've got a stream of the album here, so check it out, let us know what you think, and if you like…see you at the show at the Crystal Ballroom!