Miles Davis at the Grand Lodge
This week, we take a look at one of the McMenamins artists with whom you may or may not be familiar. His name is Miles.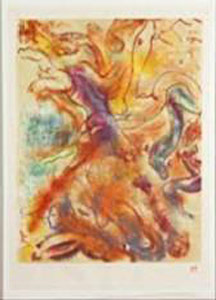 High on the east wall in the Grand Lodge's Compass Theater hangs a colorful, abstract print. The style is unlike anything you've seen in the "McMenamins genre," if you will. This piece called Seahorses has a look and style similar to that of early modernist Marc Chagall (1887-1985). Its soft, curving lines and bright colors suggest an undersea tableau, the subjects made amorphous as though seen through water. The viewer can just pick out a face, a leg, a torso.
It is in fact a limited-edition, hand-pulled seriograph (or silkscreen) by one of the great jazz musicians of our time, Miles Davis (1926-1991), who is regarded as one of the most innovative and influential figures in the history of music. Davis only took up drawing and painting in the final decade of his life. Published in 1992 and embossed with Davis's signature and his red chop mark, the print that hangs in our theater is one of only 200 from a hand-printed run. The characters on the chop (below) were selected by Davis himself and translate as "Blues King; Dancing Spirit."
Davis's series of paintings were first displayed publically in 1990 and received rave reviews from New York to Japan. Sadly, Davis died before hearing much of the world's praise for his artwork. An article titled "The Unknown Art of Miles Davis," published in November 2013 in The Daily Beast, said this:

"Miles Davis did not begin to draw and paint until he was in his 50s, but he brought the same fierce concentration and determination to his visual art that he had used to constantly re-invent himself as a musician for nearly 40 years. A restless soul, he is reported to have worked for hours a day on his drawing and painting. The results are mixed, and that's not just a polite way of saying that Miles wasn't a good artist. … Was he great? Maybe not, but he was very good, particularly as an abstract painter. He had a fluid, muscular style, understood color and balance, and possessed a crash-and-burn fearlessness in his compositions."