As has been mentioned here in the past, several of the Kennedy School guestrooms have been renamed to celebrate the people who attended, worked and taught at the school.
With another school year soon coming to a close, we look back at one woman who dedicated four decades of her life to children's education.
"Fear and respect, there's a relationship there. And you respected her. She didn't allow it to be anything else."
–Norm Reiter, Kennedy alumnus and longtime Portland Police Detective
"She understood kids. She was the kind of principal that if you were sent down to her office, she'd look the issue over. She was tough! …Sometimes she'd give you a swat or she'd talk to you. And I hated her talking to me, because she'd make you feel like you were 2 cents waiting for change. She was a good principal, and if hadn't been for her, I probably would have gone to reform school."
–Amo DeBernardis, Kennedy alumnus and founding president of Portland Community College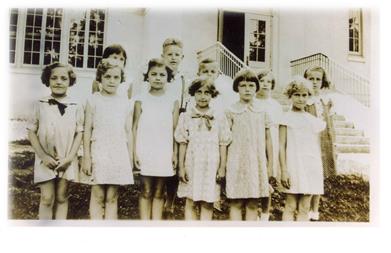 Cornelia Spencer was the epitome of the spinster schoolmarm: unmarried, strict, always wore black, and her tall frame was further exaggerated by ever-present, big, heavy shoes. Without a doubt, she commanded attention. She could silence an auditorium full of rambunctious Kennedy students simply by entering the room. No words needed to be spoken. In this same no-nonsense, unwavering way, she instilled in her students how crucial an education was for opening up more and better opportunities in one's life. The photo here shows some of the Kennedy kids who undoubtedly feared her very presence; sadly, we don't have any good photos of Miss Spencer herself.
Cornelia was born in McMinnville, Oregon, in 1874 to the son of a Methodist missionary who had come to Oregon in 1852. At age 8, she moved with her family to the north coast of Washington (Spencer Spit in the San Juan Islands was named for her family). And it was there, prior to 1900, that Cornelia began her long, public school career, and forever after was known as Miss Spencer.
After more than two decades in the classrooms of public schools across Oregon and Washington, Miss Spencer moved into administration. She took on the job of Kennedy School principal in 1920, a role she retained for nearly 20 years. Her effectiveness and the respect she had from her peers are revealed by the fact that during this period she also served as president of the Oregon State Teachers Association.
It wasn't all work and no play for Miss Spencer. As a 50th birthday present to herself, she went on a three-month adventure through Great Britain, Holland, Belgium, Switzerland, Italy and France during summer break in 1924. Reinvigorated, she returned that fall to launch her final stint at Kennedy School, bringing her esteemed career to a close in 1937.