In honor of McMenamins internal "Hackwater Golf Tournament," we retell a story that spans generations, one that weaves legend and history and perhaps more than a touch of golf mysticism. But, with our company, this type of magic is simply par for the course (meaning, exactly what you'd expect it to be).
---
Adapted from an original article by Tim Hills; painting by Lyle Hehn.
Suspended from the ceiling outside a room on the 2nd floor at Edgefield is a medieval-looking piece, with spike-like electric candles and pounded-brass straps rolled into a sphere. It's a McMenamin family heirloom and one that is long-suspected of bringing about a remarkable string of holes-in-one over three generations (so far).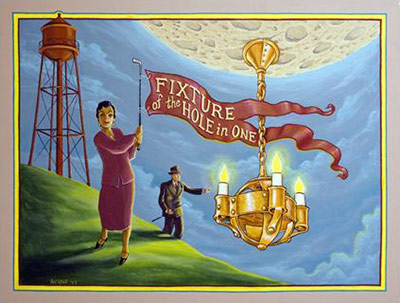 Since the 1950s, the mystical orb made a succession of moves to various family members' households, during which time Mike and Brian's Grampa Charley Wentworth, Uncle Charles, Pat (Mom) and Brian himself all scored holes-in-one (Pat actually shot three aces!).
The feats of Grampa Charley Wentworth and his son Charles were so astonishing that Ripley's Believe It Or Not chronicled them in a 1982 column: In 1950, Charley Wentworth came dressed in top hat and tails to the Arlington Club's annual golf tourney at the Waverly Country Club along Portland's southern border. At the 9th tee, he bet his fellow players he would ace the hole, something he'd never done in 30 years of golfing. With a swing so mighty the momentum brought the big man to the turf, Charley's ball sailed-right into the cup!
Twenty-seven years later, at a reconvening of the same event, Charley's son Charles-who was similarly attired in formal wear-repeated the miracle, this time on the 16th hole of Waverly's course. Charles, like his dad, also predicted he would ace the hole just before taking the shot.
In 1993, Mike McMenamin moved the spherical light fixture from his home to Edgefield. From this new vantage, the heirloom orb with its supernatural juju finally caught Mike in its powerful beam. In a storybook sequence of events, Mike gathered with friends in 1998 for the opening of Edgefield's Pub Course. Mike happened to rub the light fixture just before embarking with his foursome on the inaugural round of the course. On the 11th tee, Mike swung and watched with astonishment as his ball dropped into the cup; the smile was ever-so-slow to fade from his face.
The next time you're at Edgefield, head to the second-floor north balcony hallway to rub the light-see if your golfing doesn't respond with a spike of good fortune.
---
In April 1998, Mike wrote an article about the mystical light fixture for Resonance from the Festival, the former company newsletter – here are some notable excerpts:
"Despite being stashed away [in our parents' basement], the relic's hoary presence injected an aura of mystery into the old, dark room (brother Brian was very nervous about this, especially when it came rolling out from under the work bench, right up to your feet, seemingly without cause or mode of propulsion)."
"Years passed, and in 1974, we opened a pub called Produce Row Café, and the nearly forgotten 'ball and chain' ended up holding court over the main dining and bar area."