Photos from Dr. Hebbel Hoff
Our McMenamins historians and artists are busy researching and painting new historic-based panels for our next property, McMenamins Anderson School in Bothell, Wash. (opening October 15, 2015). Here, artist Jenny Joyce offers insight into her latest piece, which is an homage to Doctor Hebbel Hoff, a Bothell native who taught at Baylor and pioneered advances in the field of heart and physiology research, including the beginning of pacemakers in the 1950s. Joyce drew inspiration—literally—from Hoff's studies and findings to create an embodiment of his achievements, and like all who are personified in our artwork, illustrate his personality.
I began by processing the information to create an image that embodies Dr. Hebbel Hoff.  Here is a collection of images I gathered from the web. They provide me with some data and background about the work of Dr. Hoff in the field of physiology and heart issues.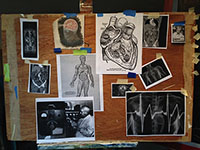 More reference photos and pictures of Dr. Hoff.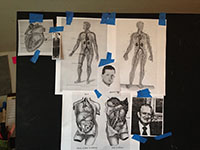 Early thumbnails, done to scale.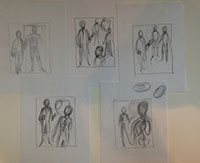 More thumbnails, getting closer to a solid design.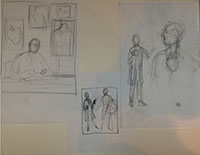 Dr. Hoff also studied the brain and its connection to sleep patterns. But this is too confusing.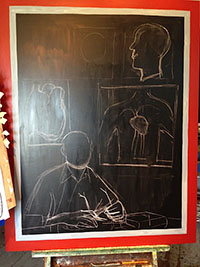 This is a much stronger design.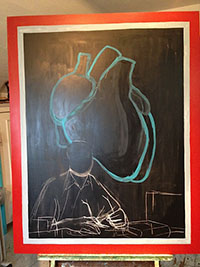 This is the final image and I am happy with it.