Portland Jazz Legend Charlie Gabriel Returns April 7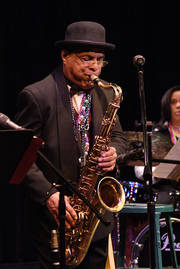 During the 1960s, Charlie Gabriel made a name for himself at the helm of the house band at the Desert Room, a nightclub on the very site of what is now the Crystal Hotel.
Now, forty years later, Gabriel is returning to his old stomping grounds, as a member of New Orleans' famous Preservation Hall Jazz Band, who take the stage at the Crystal Ballroom on Thursday, April 7.
Gabriel will return again for the grand three-day celebration of the opening of the Crystal Hotel. The jazzman will join the Mel Brown Band on May 3-5 in Al's Den, another historic venue located in the Hotel.
Gabriel's return isn't just a reunion; it's the bookend of a long and fascinating tale, a snapshot of history. Here's the story, courtesy of McMenamins historian Tim Hills:
— Jonanna Widner
Through the 1950s and '60s, the Desert Room was a notorious nightclub where owners Nate Zusman and his wife Tillie famously extended an open offer to their customers, "whatever you want, you can get at the Desert Room." This Portland landmark held court in the space at 12th and Stark, later reborn as Zeus Café in the Crystal Hotel.
By the early 1960s, part of the generous offerings that Nate and Tillie made available was top-shelf music! Apparently Nate had connections in the music industry (certainly he did in other realms). He is said to have been good friends with Duke Ellington; for sure The Duke visited the Desert Room on several occasions.
Nate, through his contacts, developed a pipeline to Detroit, and recruited stellar musicians to perform as his house band for long stints. One pioneering Motown musician, Dave Hamilton, served as Desert Room bandleader for the year 1960. During the previous couple years, Hamilton had played on Jackie Wilson's huge hit single out of Detroit, "Lonely Teardrops," as well as several recordings of the legendary R&B group Hank Ballard & the Midnighters. He returned to Detroit in 1961 and played and recorded with legend after legend.
With the 1961 departure of Hamilton, Nate lined up a new bandleader for the Desert Room. Charlie Gabriel, another Detroit musician, would oversee the house band through 1966.
Gabriel's musical pedigree is even more impressive than Hamilton's. Though a longtime resident of the Motor City, he was born and raised in New Orleans, moving north at the age of 14. Members of Charlie's family had been among the finest musicians in New Orleans since before the Civil War. His great grandfather, Narcisse Gabriel, left Santo Domingo for the Big Easy in 1856. His grandfather, Martin Joseph Gabriel, had musical battles with jazz legend Buddy Bolden. Other budding legends, Freddie Keppard and Johnny St. Cyr, launched their careers in M. J. Gabriel's National Jazz Band.
Charlie's father, Martin Manuel Gabriel, played with the next generation of the Crescent City's great jazz players, such as Louis Armstrong, George Lewis, Kid Clayton, Sidney Bechet, and Kid Shiek.
And as a kid-a very talented kid-Charlie first began playing professionally with his dad's band, as they performed around the concert halls and juke joints of Louisiana, all the while being schooled by the jazz giants with whom he shared a stage.
Such were the talents and reputation of young Charlie Gabriel, that upon his family's move to Detroit in 1946, he was plucked for the then red-hot band of another jazz great, Lionel Hampton. At the time, another recent hire to Hampton's band was future legend Charles Mingus.
Featuring himself on tenor saxophone, Charlie started his band in 1956, which became a popular attraction in and around Detroit. Like Dave Hamilton, Charlie also performed and recorded with early Motown musicians, before Nate Zusman enticed him to come to Portland. Even after accepting the job at the Desert Room, Charlie went back to Detroit once a year to see family, and do session work on recordings by such R&B luminaries as Bobby Bland and Junior Parker.
After his 6-year stint at the Desert Room, Charlie became orchestra leader for soul man Joe Simon for several years, before joining Aretha Franklin's touring band in the early 1970s.
Charlie has never stopped performing and recording, and in recent years, accepted an invitation to join the famous Preservation Hall Jazz Band, which performs traditional New Orleans Jazz. He is said to be the last remaining active link to the jazz pioneers of that city.
Portland's jazz greats such as Mel Brown and Bobby Bradford recall finishing gigs at various clubs in the city, then racing over to the Desert Room to catch Charlie and his trio's last, blazing set of the night during the early '60s.