Race Talks: Opportunities for Dialogue
This week, Americans celebrated Martin Luther King, Jr. Day, a federal holiday in observance of the non-violent activist's January 15th birthday. Ronald Reagan signed the holiday into law in 1983, and it was first observed three years later. However, it wasn't officially observed by all 50 states until 2000. Today, it is recognized as a national day of service. According to nationalservice.gov, MLK Day calls "for Americans from all walks of life to work together to provide solutions to our most pressing national problems. The MLK Day of Service empowers individuals, strengthens communities, bridges barriers, creates solutions to social problems, and moves us closer to Dr. King's vision of a 'Beloved Community.'"
If you weren't able to give back to the community this week due to work or other obligations, not to worry – here's an alternative for you. As part of our history programming, we coordinate a monthly Race Talks discussion in the Gym at the Kennedy School. Race Talks is held every 2nd Tuesday of the month, is always free and is open to guests of all ages.
---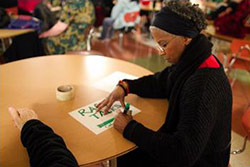 Race Talks: Opportunities for Dialogue series was founded at Kennedy School in 2010 by Donna Maxey (shown here), a retired Portland Public School teacher and administrator of 20 years, and McMenamins historian Tim Hills. "Talking about race is uncomfortable for all folks. No one wants to be thought of as racist, especially not in Portland, which is a very PC town," Maxey said in a 2014 Portland Tribune article.
The Race Talks program is different than McMenamins' monthly history pub series, in which guests listen and learn from an expert speaker, scholar or first-person experiencer. At Race Talks, there is a presentation by an expert speaker or panel, and then guests are encouraged to actively participate in a group discussion about the topic that's been presented. Aided with talking points based on that specific topic, trained facilitators organize audience members into several small groups where each member can comfortably voice his or her opinions, questions, perspectives, often resulting in deeply profound conversations about difficult topics that too often are avoided. Such open, facilitated, interracial dialogues can and do lead to greater understanding and a more unified effort to break down racial stereotypes and barriers.
Race Talks has been lauded in local and national press, including The Atlantic Monthly. The program model was replicated by Maxey for a second series, sponsored by Portland Public Schools, targeting teachers, parents and school-aged kids, held the first Tuesday of the month at Jefferson High School in North Portland.
The purpose of both Race Talks series is:
To advance racial justice in Oregon and Washington
To support, nurture and create intercultural experiences
To develop channels of communication through community dialogue
Past topics have included: Trayvon Martin's death; the role of race in health care disparities; the Latino experience in Oregon; the Asian-American experience in Oregon; neighborhood gentrification; playing the "race card"; and whether millennials are "post-racial," to name just a few. Discussions are meant to be fair and balanced, with moderators overseeing the experience for guests of all colors, ages, backgrounds and beyond. Our upcoming program on February 10 at Kennedy will discuss cross-cultural adoption.
And on March 30 at the Kennedy School, in conjunction with Race Talks, the Oregon Black Pioneers and our other usual sponsors, we will present a special history pub entitled "Night Life: Clubs, Restaurants, and the Music." This program is a part of an exhibition called A Community on the Move (February 1-June 28, 2015 at the Oregon Historical Society), which explores how the WWII shipyards, migration from the South, the Vanport flood, and urban renewal projects impacted Portland's black families and businesses. Drawing on personal photographs, historic artifacts, and hands on experiences, the exhibit is designed to illuminate Portland's vibrant black community of the 1940s and early 1950s, which thrived despite a larger cultural and legal context of discrimination and displacement. As present-day gentrification in Portland impacts historically black neighborhoods, the importance of acknowledging and understanding this little-known history is critical to our collective future.
Important Dates
February 1-June 28 · A Community on the Move exhibition · Oregon Historical Society
Tuesday, February 10 · Race Talks presents "Cross-Cultural Adoption" · Kennedy School
Monday, March 30 · "Night Life: Clubs, Restaurants, and the Music" in conjunction with A Community on the Move · Kennedy School