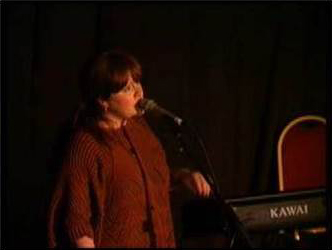 It was Thursday, May 29, 2008. Former Mission manager Mike Wyant recalled recently:
"We sold around 150 tickets. Capacity was 400. She was a very sweet woman and blew us all away with her voice. I remember the cleaning crew was there and her bass player asked if they could have a closed sound check. I said no because we didn't have a place to send the cleaners."
Shown in the photo here, taken at the Mission, Adele was just 20 years old, and a recent graduate of the BRIT School for Performing Arts and Technology in London.
Her setlist from that show included original material plus covers of The Raconteurs, Bob Dylan, Etta James and Sam Cooke: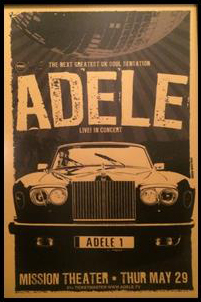 1. Cold Shoulder
2. Melt My Heart to Stone
3. Daydreamer
4. Best for Last
5. Right as Rain
6. Many Shades of Black (The Raconteurs cover)
7. First Love
8. Tired
9. Make You Feel My Love (Bob Dylan cover)
10. Fool That I Am (Etta James cover)
11. Hometown Glory
Encore:
12. Crazy for You
13. That's It, I Quit, I'm Movin' On (Sam Cooke cover)
14. Chasing Pavements
One commenter wrote: "I was at this show and it was amazing! It was so intimate and Portlanders gave her some mad love that night." Were any of you there?
Adele returned to McMenamins in August 2011, for a sold-out-in-minutes show at Edgefield (having had to reschedule a sold-out show at the Crystal Ballroom earlier that year, cancelled due to laryngitis). By that time, her star had been catapulted up, up into the galaxy, where it continues to rise.
To date, Adele's latest album 25 has sold upwards of 7.5 million copies and counting, making it the biggest-selling album released in the U.S. since Adele's last album, 21, which debuted in 2011. The latter title has sold 11.37 million (and counting).
Here's a clip of Adele at the Mission, singing Etta James' "Fool That I Am" to a very lucky, exclusive crowd of around 150.