Ruby's 30th birthday is this coming Monday, March 21. This light, fruity, raspberry beer is one of our best-selling recipes. Who among us hasn't heard from a guest or customer at least once, "I love Ruby!"
Thanks for that, and CHEERS!
The Original Brewsheet:
In 1986, McMenamins Hillsdale Brewery & Public House became the first brewery in the Pacific Northwest to legally use fruit in the brewing of ales.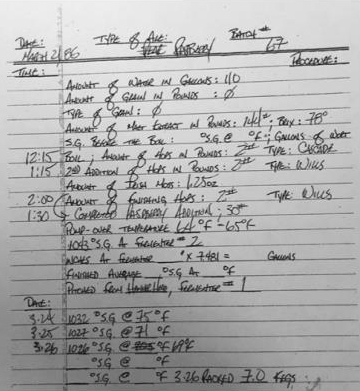 The Name:

Originally the beer was called Ruby Tuesday; this is one of the original tap labels. However, the chain of restaurants called by that same name filed a cease-and-desist against the company — ironic, given that the name of the litigious chain itself was taken from the 1967 Rolling Stones song. Regardless, Ruby Ale it became.
The Logo:
The beer's logo is based on an old Germanic tradition of a kitchen witch that inspires productivity and safety, but that also dispels any ill-will directed to the home. According to McMenamins artist Lyle Hehn: "The first image of Ruby came along some years after the ale had become successful. In 1992, I was painting decorative patterns on the walls of the Administrator's House at Edgefield. When I got to the kitchen, I found an area that needed something more than just a border design. Europeans have a tradition of hanging a little witch doll in their kitchens for good luck. This kitchen would get a painted version. I tried to make the line-work in the figure resemble the style of crude medieval woodcuts. This explains some of the ambiguity in the lines and why Ruby's costume would not be very practical in real life. Later, when McMenamins wanted to print coasters advertising Ruby Ale, I based the design on this painting at the Administrator's House where she still is today."
# of Songs that Mention "Ruby":
Including the Stones' notable tune, there are 258 songs that mention "ruby" either in the title or the lyrics (per songsets.net, anyway). A small selection: "Ruby" by the Kaiser Chiefs, "Ruby's Arms" by Tom Waits, "Ruby, Don't Take Your Love to Town," covered by everyone from Kenny Rogers to Cake to Leonard Nimoy. "Oh, Ruby, for God's sake, turn around!"
Buried Ruby Treasure:
Some will recognize this version of Ruby from the basement of the company's original headquarters at the Mission Theater. Today, only a handful of us lucky ones get to see this version on a regular basis.

Way Back in 2012:
And here's a video from 2012, about why people like Ruby.