It seems like The Freaks have been an integral part of McMenamins music community from the beginning! Can you tell us about the early days of the Freak Mountain Ramblers, and how your relationship with McMenamins came to be?
The Freak Mt. Ramblers started out in the Fall of 1997, playing weekly at the Laurelthirst Public House for the Happy Hour show that over the years became known as "Church" – 6 to 8 p.m. on Sunday nights. We played there for a year before we acquired the FMR name, which came about when we made our first CD – we obviously need a name to go along with the CD. The original members were Jim Boyer (guitar,vocals), Bingo Richey (guitar, vocals), Dave Reisch (bass,vocals), Paul Bassett (washboard), and myself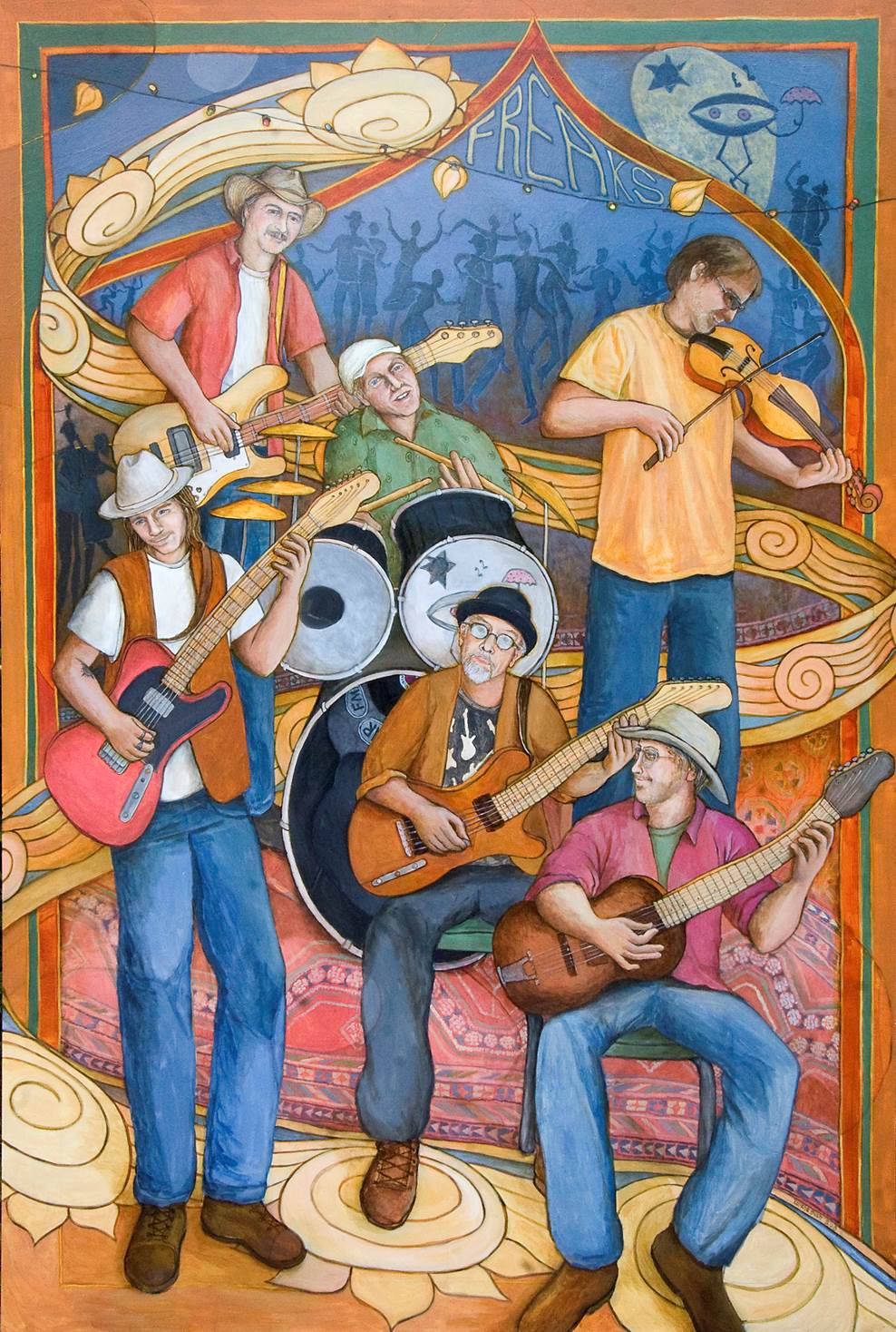 Roger North (drums, vocals). When we finished that CD, which turned out maybe better than we had hoped, we all realized that "Hey, we are actually A BAND". We continued along with that personnel for another year or two – no shows at McMenamins yet, and hardly anywhere else either other than the Laurelthirst and an occasional party or wedding. During that time, Paul Bassett had left the band and Bingo had moved to Austin, Texas, so we hired and old friend of Dave's and mine, Turtle Vandemarr, to replace him on guitar and vocals. Less than a year later, Bingo moved back to Portland and re-joined the Freaks. At that point we made a second CD, "Looks Perfectly Legal to Me", and we were again a 5 piece band, this time with 3 guitarists and 4 lead singers (plus bass and drums) – we were approaching our current lineup. Also during this time, we began working occasional shows at the White Eagle, our first McMenamins gig as the Freak Mountain Ramblers. Mike and Brian McMenamin were old friends of Dave and mine from the Holy Modal Rounders days (Dave and I had been the Rounders rhythm section for many years), and I think they saw the same funny and twisted energy in the Freaks as they had enjoyed in the Rounders. Then, Bingo again relocated – this time to Joshua Tree, California, where he had a small piece of land and a home. At this time, we hired another old friend and band mate, Lex Browning, a great fiddler/guitarist/vocalist from another band Dave and I had played in, "Jeffrey Frederick and the Clams" (another Rounders spinoff). I think the Freaks may have played the Crystal Ballroom, Kennedy School, and Grand Lodge a few of times around then as well. When McMenamins began their Great Northwest Tour music concert series, I believe in 2003 or 2004, they made us a part of it, with a July and November tour of their hotels becoming an annual event that continues still. In the first years of those tours, Bingo periodically came up to Portland and played the shows as well. At that point and for 11 years, the band was Jimmy, Dave, Turtle, Lex and Roger. And since that time, Mike and Bryan McMenamin have been very loyal and supportive to us (as they are to many local musicians and artists of all sorts), and we really really have appreciated that support.
Your band has probably played nearly every property in our company. Do you have a favorite venue? What McMenamins memories stand out for you?
We have always enjoyed playing in the gymnasium at the Kennedy School. Being in Portland, the shows are always well attended, and the Halloween and New Years Eve shows are consistently great fun. Also, on the tours we like going to Bend, where over the years more and more people seem to have become fans. It's unique in that usually the first set is a sit-down concert environment where people seem to listen intently, and the second set is a pretty hot dancing scene. Very fun for us. The Red Shed shows at Edgefield are really nice, in the grove of trees out back. Unfortunately this year we have not had great weather for these, but when the weather is nice, that is a really fun and comfortable place to play. And finally, the Olympic Hotel in Centralia is one of our favorites. The Freaks are normally a dance band, but in Centralia for some reason people like to sit and listen, which at first was tough for us and made us self-conscious. But we found that the folks were really nice to us, and seemed to genuinely enjoy listening, and stayed till the end of the show. This has made us into a much better band over the years, and we always like going up there for those shows, because we get to be in a quite different environment and get to play a whole different kind of music – really nice!
There have been many memorable times at all the McMenamins venues, but perhaps the oddest and goofiest incident took place at a time we played the White Eagle. After the show and a few beers, all the band members, numerous audience members, and some McMenamins employees (not to be named here) climbed, via a ladder, up through a hatch to the flat roof. Up there we spent an hour or so hitting golf balls off the roof toward the river. It was great fun, and I'm so glad, and maybe a little surprised, that nobody got hurt. Whew!
For someone who has never been to a Freaks show, how would you describe your sound and overall feeling one would take away from a show?
Even though we have been playing McMenamins venues for a long time (note: my records show that by the end of this year we will have played 323 McShows) we do continuously see new people on the dance floor. As we have 4 lead singers (and a drummer who occasionally poses as a 5th one), we play a wide variety of songs. Each singer has his own style and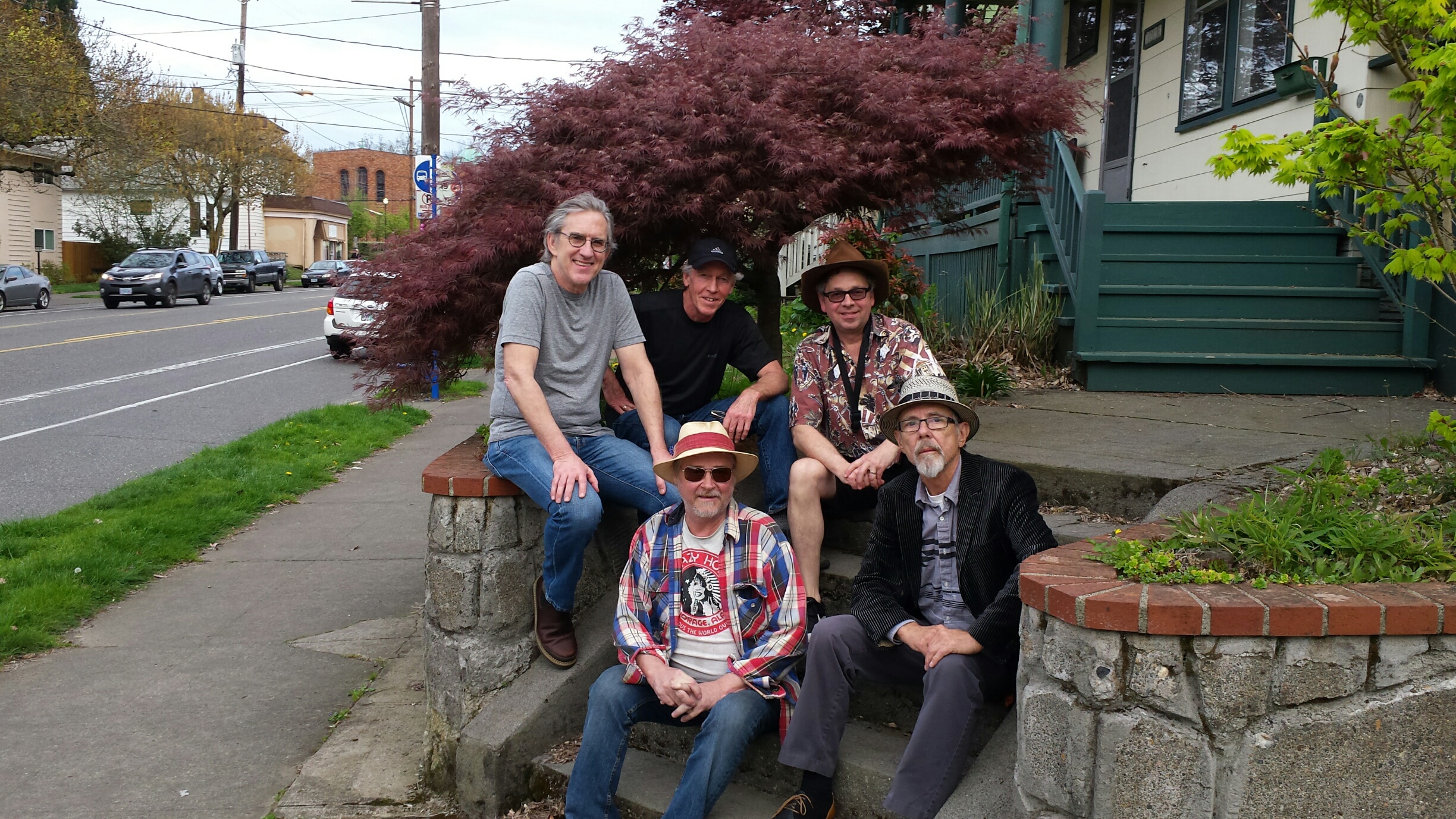 catalog of tunes – old-timey stuff, quirky stuff, blues, country, originals, and of course rock and roll. Through all these styles, people can enjoy sitting back and listening, following the often oddball lyrics, hearing the cool fiddle and guitar solos, and appreciating the casual ability we have learned over the years to play songs differently each time we perform them. But through it all, judging from what audiences seem to love to do, it is great dance music. No toe-gazing emo music here – FMR is a band that moves and loves to see the crowd move, and we feel lucky that McMenamins has for years provided the environment where both audiences and bands are comfortable doing that.
Whats your favorite McMenamins beer, and of course Fries or Tots?
Tots by far are my favorite, McTaters, I can't speak for the rest of the guys. I like the Cajun ones, with a side order of hot horseradish to dip them in. I am aware that this fetish can get out of hand, diet wise, so I try to limit myself to one really big order of tots per tour. Of course, "try" is the operative word there!