Thanks for the Memory, Etta
Music legend Etta James died today at the age of 73. The legacy she left behind in music is timeless and beautiful. But the memory she left with me is one of the highlights of my career.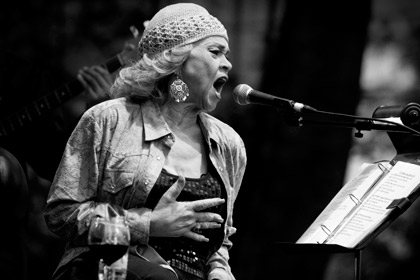 Etta played at Edgefield Concerts on the Lawn in 2007. The idea that I was going to be able to photograph Etta James was crazy to me — it wasn't really setting in. Before the concert I was making small talk with another photographer who warned me that "Etta hates having her photo taken." I thought that was silly since I had been granted photo clearance from her management — I thought, she can't hate it that much.
The concert started, so I got right up there on stage, getting the shot I needed. I was in awe of the power of her voice; she still had it.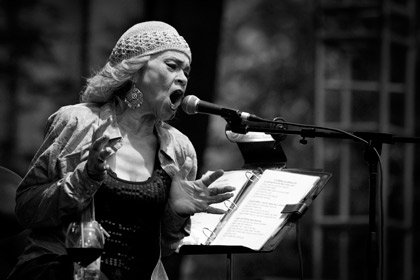 The first song ended, and Etta started talking to the audience. WAIT, she was talking to the audience — about me! She told the crowd how some girl down in front was taking her photo. At first I didn't believe she was talking about me — but then she looked right at me.
I pointed at myself, mouthing, "Me?"
And she said, "Yes, you!"
OH MY GOD. Etta freaking James just called me out, in front of 5,000 people.
I started yelling, "I'm sorry, Etta, I love you! No more photos, I promise." She then went on to some other banter, as I stood shocked and in complete disbelief — did that just happen? Then she starts talking to me again, through the mike, so that all 5,000 people are listening.
She said to me – and I quote: "I don't want you to be mad at me. Don't hate me."
"NO, I'M NOT MAD AT ALL, I LOVE YOU, ETTA! "
So we ended on a good note. Wow. That happened.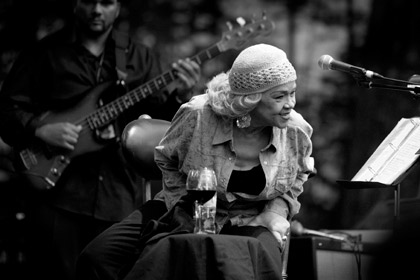 I made my way out of the venue, where people who saw me with my big camera asked, "Are you the one Etta was yelling at!?" — "Yep, that was me." Wait — that was me. Etta James and I had a moment, and it was amazing.
To this day, that is the single-most memorable experience I've had photographing music, and I have the to photos to prove it.
Rest in peace, Etta.