The Billy D Boogie Is Taking Over!
It hasn't taken long for one of McMenamins' newest acts to start making a splash in the Northwest blues scene.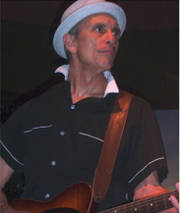 Billy D and The HooDoos just won the 2010 Cascade Blues Association Muddy Awards "Best New Act." award, and we couldn't be more proud to boast Billy and the HooDoos as a regular at many of our properties.
The Muddy Award is a pretty big deal for a group that moved here just 14 months ago, from a land that couldn't be more opposite than the Northwest: The band hails from Santa Fe, New Mexico, where I got to know them when I was a music editor there.
Billy and the HooDoos been making the rounds of many of our properties, from Edgefield to Boon's Treasury to Rock Creek, and if you haven't had the chance to catch their high-energy set, let me tell you what you're missing:
Updated, rock-infused blues that manages to stay up-to-date without skimping on tradition. A dedicated, fun lead performer in Billy D who, in all the years I've seen him play, has never phoned it in. A thick Chicago backbeat, wicked harmonica, soulful vocals and gee-tars with a little sting.
This is a crew that pulls booties out of seats and gets hips to shakin'. If you're looking for a night to grab a few brews and shake your tailfeather, you can't go wrong with a HooDoo's show. Billy's solo shows are just as soulful, although a mellower affair. Either way, make sure to catch the Northwest's Best New Blues Act with us!
UPCOMING SHOWS:
Sunday, December 12
Edgefield Winery
Billy D (solo)
Wednesday, December 15
Boon's Treasury
Billy D (solo)
Stay tuned to McMenamins.com for future show dates and information (don't forget-you can search for "Billy D" when you log on). In the mean time, you might want to pick up a copy of Billy's newest CD, Somethin's Wrong.