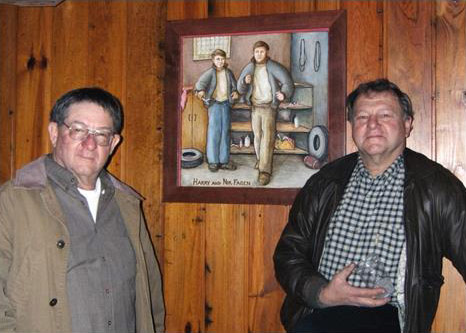 Not sure we'd like to run into these two in a dark alleyway – but appearances can be deceiving. Read on to learn Nik and Harry Fagen's story. They were students at the Old St. Francis School parish in the 1950s. They came back for the opening of the hotel in November 2004 and to have a look at the guestroom named after them. And have a beer or two.
---
As kids, the brothers came to Bend from rural Minnesota in 1949, with their younger brother, Donnie, and parents. Soon after, a new sister, Susie, was born. Nik and Harry entered St. Francis where they left an indelible impression on the Sisters, priests and students alike as honest, hardworking boys, great athletes, and people who gave generously of their time to the parish and school.
They also gained a reputation for being quick to stand up for what they believed. They may have intimidated some with their gruff exteriors, but the Sisters were no shrinking violets. "There was a lot of discipline," Nik said. "I wrote lots of pages from the dictionary. I can spell and punctuate pretty good, but it's all because of those nuns making me, 'cause I was always in trouble… If you left out a hyphen or whatever, you had to do it all over."
"Sister Jude, she had seven brothers," Nik recalled. "She was tougher than [nails]. We were ruggies. We wore our pants real low, and we had the White Stag jackets with the collars up, you know. We'd walk into Sister Jude's classroom and she'd [snatch] you by the belt – she had a knack – and pull your pants up." Harry added, "We'd comb our hair in a duck tail and a curl on the forehead. Geez, that'd make them [the Sisters] mad."
Harry had a special appreciation for the Sisters. "You see, when I was going to school there – I [had] dyslexia – they didn't know what it was back then, and those nuns worked their butts off trying to help me learn. School was the farthest thing from my mind – 'cause I couldn't do it. I was just like a coyote in a corner… [The nuns] were hard but they tried their damnedest to learn me how to read… They did everything in their power." Nik credits the Sisters and Harry's positive attitude as reasons for Harry's success as an adult. Neither considered his reading difficulties a handicap. "They thought he was stubborn," says Nik. "They knew he wasn't stupid."
Both brothers played on the last St. Francis championship team in 1954. The triumphant squad was undefeated, with just six points scored against them all season. "We were the Catholic ass-kickers," Nik says with a chuckle. Nik was in 8th grade, Harry in 6th. Harry was a talented and fast fullback, said big brother Nik. The coach, Vince Genna, later recalled that Harry was "like a little Notre Dame." Harry himself modestly summed up the 1954 season: "We did good."
Nik and Harry contributed a great deal to the school and parish over the years. As kids, they did yard work for the nuns and priests. They also contributed to larger projects, such as helping their dad in 1959 do the excavation work for the new convent. As adults, the Fagens brought playground equipment to the school and helped with the annual parish fundraiser, the Heart of Oregon Auction.