The New Headquarters Sign
In 2006 McMenamins moved their corporate headquarters to a former wedding chapel and mortuary in North Portland. Finally, in May of 2010, a new "McMenamins" sign has replaced the words "THE LITTLE CHAPEL OF THE CHIMES" above the door to the offices.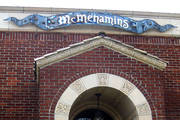 The new sign may look strange because it's something of an experiment. The bare steel is expected to rust fairly quickly into a nice streaky reddish brown and then the painted letters will pop out. Perhaps the wonderful blue welding stains will still be visible. Perhaps the experiment will gradually turn ugly and passersby will wonder what we were thinking.
Mike McMenamin's idea was to add a few respectful enhancements to the beautiful old Chapel building that would make it look a little less serious and a little more fun. The old Chapel sign would have to be replaced anyway.
I emailed a scale drawing of the design to Jeff Allen, the artist responsible for much of the metal artwork at the various McMenamins locations. About a week later he called and said that the sign was mostly finished and that it looked just like the drawing. All I had to do was paint the lettering onto the steel surface. Jeff's a wizard.
The only thing left is for the good old Oregon rain to finish the job.