Ponder this true story of Dominic O'Connor, an actual Irish hero who finished out a celebrated life in central Oregon and assisted in the founding of the Old St. Francis School.
******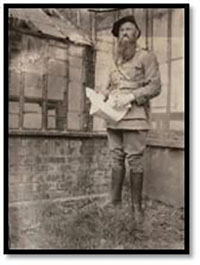 The deeds of Dominic O'Connor (1883-1935) in support of the Irish Republic are widely celebrated. Born in Cork, Ireland, on February 13, 1883, O'Connor was ordained as a Capuchin (a branch of the Franciscan order of Catholic priests) in 1906. His uncle, Fr. Luke Sheehan (namesake of Father Luke's Room at Old St. Francis School), was one of the first Irish missionaries to minister in the state of Oregon.
In response to a call from the Archbishop of Armagh in Northern Ireland, O'Connor served as a chaplain to an Irish division in the British Army during World War I (see image). He wrote, "Well someone had to do the work and when those who had done all the recruiting were too cowardly to go there was nothing left except to have us, who were anti-recruiters, go and help the souls of the soldiers the others had sent out." After approximately two years of service, O'Connor resigned his post in 1917, returned to Ireland and was appointed to the Capuchin community at Holy Trinity, Cork.
However, as civil unrest between the Irish people and British forces (the infamous Black and Tans) was becoming more and more violent, O'Connor himself took an active part in the political turmoil. He soon attained notoriety in nationalist circles and was appointed chaplain to the Cork Brigade of IRA Volunteers, thereby becoming known as one of "the Rebels' Priests."
He served as chaplain to the Lord Mayor of Cork, Terence MacSwiney, who was arrested on August 12, 1920. O'Connor ministered to MacSwiney throughout his hunger strike in an English prison and was present at his death. Soon after his return to Ireland, O'Connor was arrested for treason (see image, O'Connor in the middle in his robes) in Dublin. In January 1921, he was court martialed and sentenced to five years' imprisonment.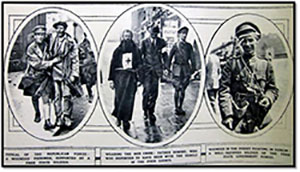 O'Connor served about a year of his imprisonment in Parkhurst Prison on the Isle of Wight, one of the toughest jails in the British Isles. Following the signing of the Treaty in December 1921, he was released in January 1922. But with the onset of the Civil War, the Capuchins were once more involved in ministering to besieged Irish Republicans. During an attack of the Four Courts garrison in Dublin, O'Connor "provided spiritual comfort, assisted in the evacuation of the wounded, and later facilitated the surrender of the defeated garrison."
Soon afterwards, possibly for his own safety or perhaps to remove him from causing any more trouble for the Capuchin Order, O'Connor was transferred 4,600 miles west to the Province's Mission in Bend, Oregon, where his uncle Fr. Luke Sheehan had been stationed before him.
The remainder of his life was a relatively quiet, perhaps lonely one. Fr. Dominic performed routine missionary duties and published the first of a two-volume history of the Diocese of Baker in 1930. Everywhere he went, he brought with him the Franciscan presence as he traveled and preached with his Capuchin brothers in Eastern Oregon. And he helped to found the school known today as McMenamins Old St. Francis School. Being a celebrated Irish Republican hero exiled by the British, O'Connor's arrival in Bend scared Oregon's KKK. This firmly established the Irish hero as an important figure within the history of Central Oregon.
In August 1935, he sustained serious injuries in a car accident in Portland. He died on October 17, 1935, and was buried in Bend, Oregon. At the funeral eulogy, Bishop McGrath said, "As a religious priest he lived up to the noblest ideals of his calling. He was always a gentleman. God rest you, Father Dominic, your passing has made us poorer, but we grudge you not your rest."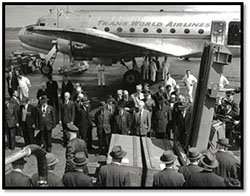 In 1958, after a campaign by the Cork branch of the IRA, his remains were repatriated to Ireland where he was buried in Rochestown Cemetery, Cork. The Bishop of Cork offered the mass and the president of Ireland, heads of religious orders and government ministers were present at the ceremony. Also in attendance that day was Fr. Brian McKenna, who was part of the 1958 repatriation ceremonies. Soon after, Fr. Brian came to the Old St. Francis School and was still there in 2004; Tim Hills was able to interview him and hear the story firsthand.
Here is an image of the bodies of Fr. Dominic O'Connor OFM Cap. and fellow rebels' priest Fr. Albert Bibby OFM Cap. arriving at Limerick's Shannon Airport on June 13, 1958. The Taoiseach (the prime minister of Ireland, appointed by the president) Eamon de Valera is standing behind the guard of honor.