Twenty-Five Years of Hammerhead – 1/25/11
"This beer has a vocal following. To run out is an unforgivable sin."
– McMenamins Breweries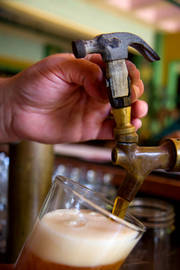 Tucked away in a corner of SW Portland, the Hillsdale Brewery & Public House is the birthplace of a VIP – er, make that a VIB. A Very Important Beer that goes by the name… HAMMERHEAD. Join us on Tuesday, January 25, at the Hillsdale and McMenamins' pubs across the land to celebrate this stalwart ale and the folks who love it. We'll have birthday pricing, food specials, Facebook giveaways and more.
But first, a little history…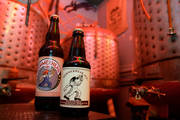 Twenty-five years ago, as one of the state's original brewpubs, the Hillsdale Brewery was lit by a fire of experimental creativity. OK, so maybe putting Mars Bars into a brew wasn't such a fabulous idea, but who could argue with Stella Blue, the blueberry brew that longtime McMenamins employee Thursday Jane danced on with feet of cold azure? Beers such as Big Pink (a cherry concoction), Mission Ale (grapes), Liquidator (our first porter) and Cosmic Ale (made with molasses) were precursors of even greater and wilder things to come.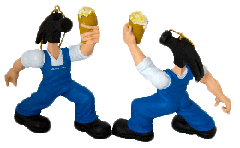 And then came Batch #37 – Hammerhead. The original brewsheet says, among other things, that on 1/25/86, hops were added and it came to a boil at 4:20 p.m. Hmmm… perhaps just a coincidence. Regardless, who could have predicted that the most popular McMenamins ale of all time would be this rather innocently designed Pacific Northwest pale ale? Sometimes simplicity is sublime.
On Tuesday, January 25, stop by your neighborhood McMenamins for a whole host of Hammerheaded specials – we'll see you there.
Pints of Hammerhead for $2 (all locations)
Bottles of Hammerhead to go for $4 (all Oregon locations)
20% off all Hammerhead merchandise at shopmcmenamins.com. (everything with a Hammerhead logo, using code: Hammerhead25).
Hotel gift shops will have $15 Hammerhead shirts.
Giveaways on Facebook – we've got our Hammerhead overnight package and other swag.
Hammerhead brat on a pretzel roll with sauerkraut and grilled onions, a cup of beer, potato cheese soup and a pint of Hammerhead for $8.75
A cocktail special called "Head Trip" – Hammerhead and a shot of Edgefield Distillery's Hogshead Whiskey
A very limited run of Hammerhead's 25th Birthday Magnums (100 total) will be available for sale ONLY at Hillsdale Brewery & Public House and the Edgefield Gift Shop on 1/25 for $20.