Want Some Art With Your Cake?
On Saturday, March 6, the Grand Lodge in Forest Grove, Ore., will celebrate its 88th Birthday Bash with live music, food and drink specials, kids' fun and, in its second year at this location, the Cracked Pots unGarden Art Show!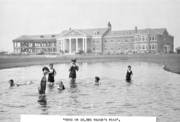 First things first: Happy birthday, baby! Built in 1922 as a Masonic & Eastern Star home, the Grand Lodge is bursting with stories. Renovated and opened by McMenamins in 2000, this formerly tranquil and serene place is now vibrant and rockin' with music and laughter! It's a blast to spend the night here – and guestrooms start at just $50 a night.
Next: Just what is Cracked Pots? It's a local non-profit that encourages artists to create using recycled, reclaimed and reused materials. The original Cracked Pots festival, featuring outdoor and garden art, is held at Edgefield every July. But as of last year, a newer festival featuring indoor artwork (think jewelry, sculpture, mosaics and more) is held at the Grand Lodge. Picture yourself strolling about the estate, pint of beer or glass of wine in hand, admiring all the cool stuff and chatting with the artists.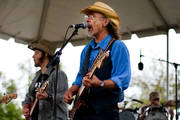 Finally: It wouldn't be a McMenamins party without live music. We've got you covered with performances by Blackberry String Band, Will West & Friends, the legendary Freak Mountain Ramblers and others.
Here's the celebration schedule – hope to see you this coming Saturday!
Around the property:
Cracked Pots unGarden Art Show: 11 a.m. 'til 6 p.m.
Joe Mishkin "The Balloon Guy": 3 p.m. 'til 6 p.m.
Facepainters: 3 p.m. 'til 6 p.m.
Garage Door Area:
Blackberry String Band: 4 p.m.
Will West & Friends: 7 p.m.
Compass Room:
Freak Mountain Ramblers: 7 p.m.
Yardhouse Pub:
Jon Koonce: 7 p.m.