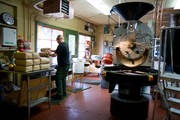 As you may or may not know, McMenamins roasts its own coffee, and for nearly a decade we have been providing the entire company with our own distinctive blends and single origin coffees. Each year we craft and process about 50,000 pounds of Arabica coffee, which is carefully selected from the major growing regions of the globe. One might ask, "How do they do that…how do they roast their own coffee?" As the Head Roaster for McMenamins Coffee, I'd like to introduce you all to our 25-kilo batch roaster. At first glance, this German-made beauty strikes a most austere pose. Its silver and black livery is reminiscent of a vintage steam engine ready to take to the rails.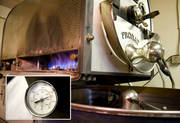 Each morning I arrive bright and early at the roaster and fire up the machine. It is very important that the roaster is properly charged. I liken the process to evenly heating and readying a cast iron skillet for sautéing. The roast machine is equipped with an iron drum that rotates over a gas flame. The process of patiently charging the drum ensures thermal equilibrium, which in turn enables me as a roaster to control each roast accurately and evenly.
The Probat L25 batch roaster is a modern industrial machine, and yet it has a pedigree that dates back all the way to the mid- 19th century. Probat has been building and perfecting roast systems for nearly 150 years. I always marvel at how the design of drum roasters has not changed all that much over the years. It is this very constant that keeps me connected to the traditions of coffee roasting.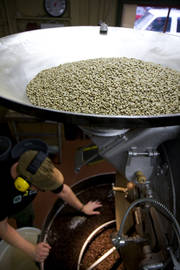 Once the machine has reached an even charge, I load up the hopper and release the raw green coffee beans into the chamber. The beans will now transform in color, structure and aroma. A good roaster uses all his senses to detect the separate phases of the roast. Each roast can be like a small journey. From beginning to end, I am keenly aware of the basic physics at work in the chamber; the sound of the beans expanding and releasing moisture, and the array of aromas that fill the room are signs and indicators as to how far the roasting process has reached.
Check back next Thursday for a look into "The Two Stages of Roasting."