Who here has heard of Woodstock? … OK, good. But just in case, a quick review: Woodstock was a music festival held at a dairy farm in upstate New York from August 15-18, 1969. The gathering attracted an audience of more than 400,000 people and is "widely considered to be the definitive nexus for the larger counterculture generation."
And now, who here has heard of the First Annual Seattle Pop Festival?
… yep, just as we thought. Only a fraction of the hands went up this time. Yet this huge music festival was held the month before Woodstock in July 1969 and featured a similarly incredible line-up of bands – from Chuck Berry to The Byrds, Ike and Tina Turner to Alice Cooper, The Doors to Led Zeppelin and on and on. And it was staged about four and a half miles from where our Anderson School is located today.
****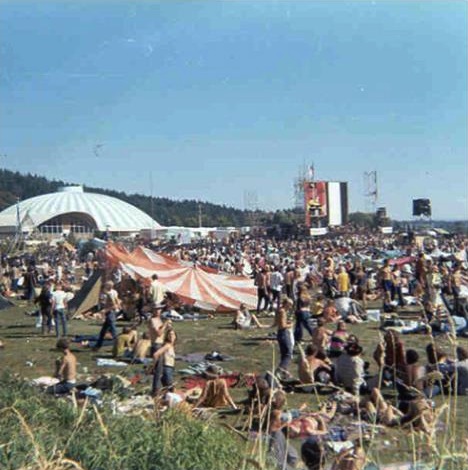 The 1st Annual Seattle Pop Festival was held at the Gold Creek Park in Woodinville, WA. Along with the live music, there were events and exhibitions throughout the park, including "an old-fashioned fun house," a roller coaster, ferris wheel and games of luck. People could purchase "broiled steaks, fried chicken, ribs and sandwiches." Tickets were six bucks for one day, or fifteen for all three. That white domed structure in the photo still exists today.
While neighbors complained about the traffic and hippie atmosphere, people agreed that the event was run well and progressed smoothly. The owner of the park, a man named Chick Dawsey, said, "I disagree with [the hippie] movement 100 percent, but some of us adults better get the hell closer to them. They respond very much to kindness, we older people better learn this." Another article quoted a security officer as saying, "I've never seen so many drunk people so well-behaved."
It was a very hot weekend, with chilly nights. Water was in short supply. Dehydration became a serious threat, so the city of Woodinville brought in a water truck from which people filled "milk cartons, wine bottles, whatever they had at hand." Others festival goers dove into a "slimy, gray-green slough" to find relief, or just got naked.
There was an open marketplace, just like at big festivals today, where you could purchase or trade for "jewelry, antique dresses, records, body painting, incense and goats' milk yogurt as well as hot dogs, ice cream and soft drinks. Drugs – and liquor too – were available. Many carried cases or coolers of beer onto the festival site. A truckload of wine was sold out in minutes. A young man with 'LSD' written on his hat was asking $2 a capsule. Another carried a small sign saying 'Acid, Mescaline'" (Seattle Times, July 1969). The year could be 2015.
But it was the music that blew people away. Santana put on an amazing show. Ike and Tina killed it. Chicago Transit Authority lit up the stage. And the big highlight of the festival was the performance by Led Zeppelin. Here's a review from the Seattle-Post Intelligencer, July 1969:
"Sunday night was supposed to belong to The Doors but it was stolen right out from under them by the great English blues group, Led Zeppelin.
Coming onstage about 11:30pm, immediately after the forced extravaganza of The Doors, the Zeppelin faced a jaded and uncomfortable audience that had been standing in the cold all evening. But the electricity of lead singer Robert Plant and guitarist Jimmy Page quickly warmed them up.
Plant has a voice that is controlled hysteria. Anguish pours from his every note; his voice is an epitome of the blues. Page is an amazing guitarist. His runs and fingering are magnificent, his control of the instrument pure genius. They were aided by a fine drummer, John Bonham and bassist John Paul Jones. Few who experienced it will forget Led Zeppelin's performance, especially their smashing encore of 'Communication Breakdown.'"
So why isn't Seattle Pop Fest celebrated in film and song, like Woodstock? Why hasn't it become a cultural touchstone, like the NY festival did? It's hard to say — but we do know that the first annual was also the last annual. The Second Annual Seattle Pop Fest never happened, basically because "the establishment" (the adults who lived in the Woodinville area) said, "Get off my lawn!"
P.S. After their show, Led Zeppelin went into Seattle to stay at the (infamous, thanks to them) Edgewater Hotel, where guests can fish from their rooms. If you don't know the story, you might want to Google it – but not at work! NSFW!
P.S.S. The band Spirit was also on the Pop Fest bill. Some say that Led Zeppelin's seminal opening riff from "Stairway to Heaven" (1971) is actually a rip-off from Spirit's song "Taurus" (1968). Led Zep had opened for Spirit while on tour in American in the late '60s, so they'd undoubtedly heard the song before "Stairway" was written. You can hear the original riff here, around the 1:40 mark. A 2014 copyright infringement suit is pending.