Who Was Carter the Great?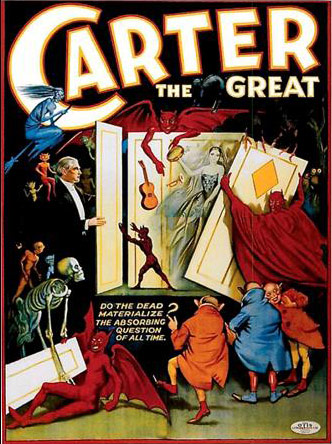 You may have heard that the formerly named See Food Bar at Hotel Oregon now goes by a grand new moniker – Carter the Great Bar, an allusion to the huge, beautiful poster (left) that hangs just outside the bar in the Paragon Room.
What's the story there? It is one of tricks and mystery, smoke and mirrors, illusion and disillusion…. Because Carter the Great was a world-renown magician.
---
He was born Charles Joseph Carter in New Castle, PA, in 1874. At the age of ten, Carter entered show business and billed himself as "Master Charles Carter the Original Boy Magician." Within just a few more years, he was traveling all over the U.S. as a professional magician (having dropped the "Original Boy Magician" bit from his name).
By the turn of the century, Charles, along with his wife Corrine and son Lawrence, decided to settle down in Chicago and take a break from touring. He opened an entertainment agency called The National Theatrical Exchange and started his own trade magazine called The Chicago Footlights.
In 1907, his agency apparently doing quite well, he and his family returned to the stage and set off on a world magic tour. They traveled through Australia, New Zealand, India, China, Sri Lanka, Egypt, Italy and beyond for three years, returning to the U.S. for a few months before heading outagain for a second world tour that lasted until 1912. He, Corinne and young Larry eventually completed seven world tours with their stage act.
Carter's skills as an illusionist were said to rival even that of Harry Houdini, and he is remembered today as one of vaudeville's greatest talents. Some of his best stunts were "The Sawing in Half Illusion," "The Vanishing Elephant," "The Torture Cell of Spikes," "The Million Dollar Mystery," "The Witch, The Sailor and The Enchanted Monkey" and many others.
Charles Joseph Carter suffered a heart attack on his way to Bombay, India, in 1936. His son Larry took over the show. Eventually, Carter had another attack, this one fatal; he died at the age of 61. It was said that Carter had a pact with Houdini — whomever died first would contact the other using a code. But as far as anyone is aware, no word has come from either deceased showman.
Those who want to know more about Carter the Great should read Carter Beats the Devil (2001) by Glen David Gold, which is a fictionalized account based on Carter's wonderfully magical life.
A few interesting facts…
In April 1912, at the end of his second world tour, Carter tried to book passage back to the U.S. on a fancy new ocean liner – however, he was denied passage because a large number of wealthy passengers had already taken up the ship's storage and there was no room for all of Carter's luggage and stage gear. That ship was the RMSTitanic.
Carter the Great was also a lawyer, having graduated from law school in 1905.
His first use of "Carter the Great" was on an advertising poster printed in 1905, but he more regularly went by Carter the Mysterious.It wasn't until many years later that he opted for the more direct Carter the Great.
One of his famous stage tricks was a simple chair attached to ropes. His wife Corrine would sit in the chair and be hoisted several feel in the air. Upon his command, she would vanish into thin air and the chair would fall to the ground! He originally called this illusion "The Magical Divorce" – however, his wife didn't find that quite as funny as he did, and he changed the name of the illusion to "The Phantom Bride."
In 1922, archeologist Howard Carter discovered the lost tomb of King Tut and the entire world became spellbound by all things Egyptian. Our magician Carter wisely capitalized on this obsession by commissioning a special poster of himself sitting atop a camel in front of the Sphinx and the Pyramid ofCheops, a savvymarketing move no doubtincreasedattendance at his shows.
On the TV show How I Met Your Mother, lead character Barney Stinson (played by Neil Patrick Harris, not shown in this photo) has an apartment that is nearly devoid of color – except for a Carter the Great poster on the back wall. This is an inside joke and an homage both to show producer Carter Bays as well as to actor Harris's well-known love of stage magic.